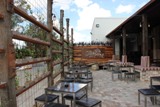 The Australian Tap House
To help answer the call for a quality venue that understands craft beer in Sydney's west, the Australian Hotel and Brewery have established The Australian Tap House, the new home of individualised, custom-brewed beer in the Hills.
Nestled beside the award-winning micro-brewery in Rouse Hill, this new bar will serve a variety of iconic and seasonal craft beers, as well as having guest taps from some of Australia's best breweries. The taps will be on a high rotation to ensure variety, featuring a selection of beers from the Australian Brewery, as well a range of craft beers chosen by head brewer Neal Cameron.
Whilst it is designed in the style of Sydney's small bars, the Australian Tap House maintains a large and comfortable space that the Hills area is renowned for.
The Australian Hotel and Brewery has been a landmark Sydney venue and the Tap House represents a new chapter for craft beer fans in West.
"We have been and always will be craft beer enthusiasts," said the Australian Brewery's Marketing Manager David Ward. "The Tap House is something that we have been planning for a while; a space where lovers of craft beer can enjoy not only our creations, but quality brews from around the country."
An award-winning craft beer producer, the Australian Hotel and Brewery were the first Australian craft brewery to serve their product in cans and kegs only. This point of difference has led them to win awards for innovation.