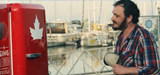 To celebrate Canada Day (July 1)Molson Canadian has created some specialbeer fridges, which only open if people can sing the entire Canadian National Anthem, 'O Canada', without messing it up.
Molson takes pride in being a Canadian beer company, so in honour of Canada's special day, they have placed theses fridges all over Canada.
When people sing 'O Canada' correctly the fridge opens, rewarding the beer lover with perfect pitch with a cold beer. However, if the singer stumbles over words or sings too quickly or slowly, the fridge beeps, lights up and access is denied.
This isn't the first time Molson have rolled out their iconic red fridge, with the company planting fridges throughout Europe last summer, which would only open once a Canadian passport had been scanned.
The Molson Passport Fridge was also at the SOCHI Olympics earlier this year giving away free beer, only to Canadians of course.
Check out videos of Molson's O CanadaFridge and the Passport Fridge.