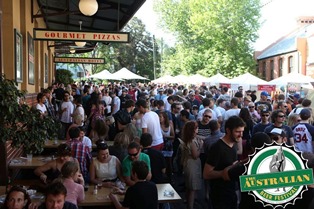 The busting Australian Beer Festival
Sydney's annual Australian Beer Festival will celebrate its 10th year championing beer and cider at The Australian Heritage Hotel in The Rocks from 17 to 19 October.
The craft beer and cider festival is expected to draw more than 12,000 craft brew enthusiasts throughout the three days.
The festival will showcase more than 130 Australian beers and ciders from 28 stalls hosting Sydney, regional NSW, and interstate brewers lining Gloucester Street.
The Geoff Scharer Best Overall Beer Award, named after The Australian long-time publican and micro-brewing pioneer, will be awarded to the favourite brewer, along with seven more awards including Best Cider.
For those who are new to the game, there will be a home brewer shop showcasing entry-level equipment to get started with craft brewing at home and the annual Home Brew Championship, which encourages dedicated home brewers to put their beer-making skills to the test.
In addition to this, the festivities include blind tastings, 'Meet The Brewer' sessions, a beer garden and live entertainment. In light of the festival's 10th year, and in a nod to The Australian's 100th birthday this year, the pub will launch a limited edition Rocks lager. Brewers attending the festival will also be encouraged to brew a one-off heritage beer in honour of the 100 year milestone of one of Sydney's most iconic venues.
Entry is free and tasting cups are $5. Tasting tickets are $25 for 10, available on the door or pre-purchase here.
For more information or to enter the Home Brew Championship, email here. Entries close 3 October and winners will be announced on 8 October.