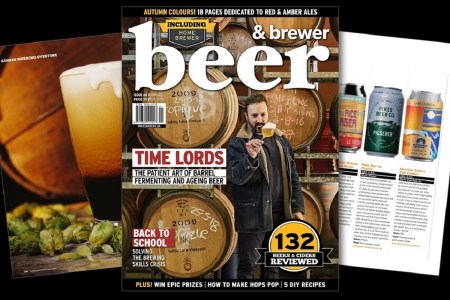 Autumn has arrived and so too has the latest edition of Beer & Brewer magazine where we pay particular attention to red and amber ales and brewing in barrel while we taste and review 132 craft beers and ciders, dish up a dedicated home brewer section with multiple DIY recipes and so much more.
With red hued ales staking a claim as Autumn's most suitable style we go all in and dedicate 18 pages to the category. Amongst our coverage, Jono Outred charts their evolution and chats with the exponents of some of Australian craft's best renditions, the guru of the home brew John Palmer gets fairly technical about what constitutes one and provides one of our four DIY recipes dedicated to the style, while in one of his two red IPA features, our HomeBrewer Editor Jake Brandish becomes Jake the RIPA and rips out a red version of an English IPA with an Aussie twist.
The patient art of barrel fermenting and ageing beer provides another of this issue's overarching themes and is also our cover feature, with La Sirène's Costa Nikias and photographer Henry Trumble providing one of our better front page images ever.
Check out a 14 page teaser of our latest issue
What else you'll find in the Autumn 2022 issue
Just as the hop harvest hits full swing, brewer and brewing consultant Steve Brockman does a deep dive on hop optimisation.
Tash Thompson speaks with KAIJU! Beer's designer Mikey Burton and others about design in the craft beer industry while Adam Carswell charts the skills crisis that's brewing away in it and how the likes of the IBA's chair Rich Adamson are seeking to solve it.
Sensory analyst Briony Liebich delves into the rich and exotic world of barrel aged beers and the flavours they deliver.