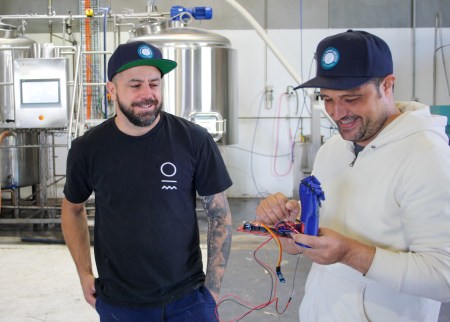 Ocean Reach Brewing will donate all profits from sales of their soon to be released Bionic West Coast IPA to fellow Phillip Islanders Free 3D Hands – a not-for-profit organisation that create assistive devices for people in need, right across the world for free.
Launching on March 20, Ocean Reach's limited release IPA will contribute to Free 3D Hands' goal of manufacturing their 3D printed, multi-grip "bionic arm" for less than $60 per unit instead of the $60,000 that commercially available alternatives currently cost.
Free 3D Hands' founder Mat Bowtell said: "Our goal is to significantly bring down the cost of assistive technology to help those who currently cannot access or afford it, and in the case of the bionic arm, we need to find a way to manufacture a highly technical device in a very affordable way.
"The generous contribution from Ocean Reach Brewing, and from anyone who buys the Bionic West Coast IPA, will directly support this effort."
The launch of the beer will coincide with an open day at Free 3D Hands' HQ in Newhaven. To register for this free event, head here.
Ocean Reach Brewing's co-founder Simon Bismire said: "We've been thinking for some time about how we can give back to our community or support a charitable organisation in a meaningful way.
"The Bionic beer will provide funds directly to the development of the bionic arm, both of which are made right here on Phillip Island, which is really fantastic.
"The work of Free 3D Hands can change the life of children and adults in Australia and around the world; including people affected by conflict and those with congenital limb differences.
"And all this came about by chance, through connections in our community. And now we feel very much a part of the innovation and purpose driven by Mat and his team."
The open day and Bionic West Coast IPA launch is on from 12pm to 5pm, and will include live music, a sausage sizzle, demonstrations, a tour of the Free 3D Hands facility, door prizes, giveaways and more. The Bionic West Coast IPA will be available to buy on the day while it can be purchased online via Ocean Reach and in selected stockists form March 21.