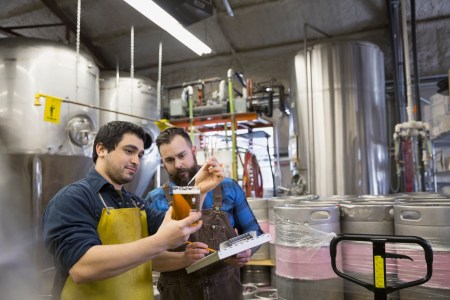 TAFE NSW has opened up its brewing course intake for 2020.
The one year, part-time Certificate III in Food Processing (Micro Brewing) is delivered at TAFE NSW Ultimo in the evening and is aimed at people who wish to follow their passion for beer brewing, and move into a production role within the industry. There are 25 places available.
It is a nationally recognised qualification that covers food safety guidelines and procedures, how to monitor food quality and to contribute to occupational health and safety practices.
According to the website, the course will "give you a solid foundation for a career in industries such as baking, beverages, micro brewing, confectionery, dairy, fruit and vegetables, grocery products and supplies and poultry".
The course is taught by a team of specialists including Richard Adamson (Young Henrys) and Dan McCulloch (Lallemand Brewing) who are recognised as some of the best brewers in the business.
"Upon completing the course, I am now a qualified brewer which has helped me gain positions in the industry and the skills to work across all aspects of the job," says Michelle Hanrahan, who completed the Certificate III in Food Processing. "Brewing is a highly fulfilling career and qualified brewers are in short supply which has made this all the more rewarding.
"Studying at TAFE NSW meant I was able to learn the most up-to-date, industry-relevant brewing techniques from experts in the industry, and now I am living the dream. I couldn't have hoped for a better result."