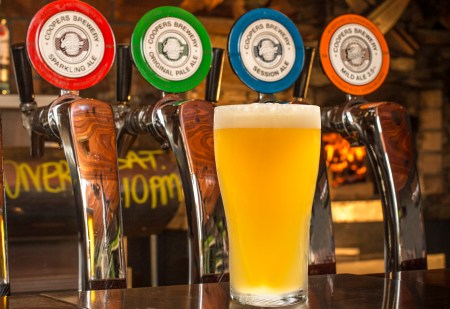 Coopers Brewery has announced a 2% growth in sales volumes to 76.8 million litres during the 2018-19, although profit before tax declined.
The brewery has cited the launch of new products Coopers Session Ale and Coopers Dry, as well as the release of Coopers Original Pale Ale in cans for the sales growth.
Session Ale was launched in packaged format in March 2018, with Coopers Dry coming the following September. Original Pale Ale was made available in cans in August 2018.
"Coopers Dry entered the market to replace Coopers Clear and has been able to carve out a share of the dry or low-carb sector with sales exceeding initial expectations," says Dr Tim Cooper, Coopers' managing director.
"The release of Coopers Original Pale Ale in cans in August 2018 helped boost sales for our leading product, especially in the second half of the year. The Pale Ale cans have greatly exceeded the sales of the former Dr Tim's Traditional Ale, which nonetheless served its purpose as a trial product."
Sales rose most in Queensland (6.1%), with Western Australia seeing 3.1% growth, Victoria 2.9% growth and 2% growth in South Australia. New South Wales sales did not change.
Profit before tax declined, however, dropping from $34.2 million in 2018 to $23.1 million.
"The reduced profit was attributable to a changing sales mix, higher barley prices and more competitive market conditions with some segments showing declines in retail pricing," says Dr Cooper.
"The latter renders difficult our ability to recover higher excise duties and costs arising from the imposition of container deposit schemes. Interest and borrowing costs increased by $1.7 million during the year reflecting the debt incurred by the malting project and previous share buybacks.
"Sales of manufactured partner brands also fell 11.4%, partly attributable to the conclusion of Coopers' agreement with Brooklyn Brewery in December 2018. On the other hand, volumes of our naturally conditioned ales and stout increased by 3.1% to represent 81% of total volume."
Malt sales for the year rose by 132% to 44,300 tonnes, although this came from a low base.
"The maltings is now running close to full capacity, providing significant improvements in malt quality and cost savings on one of our key raw ingredients," adds Dr Cooper.
Dr Cooper also said sales in the first few months of the new financial year had been positive with strong growth in XPA, which was released in can format in August. The release of Sparkling Ale in cans in August was also said to have been well received.