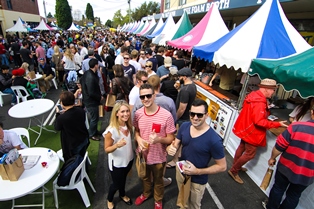 Revellers at last year's Willoughby Craft Beer Fair
The Willoughby Hotelon Sydney's North Shore will host the third annual Willoughby Craft Beer Fair on Sunday 14 September.
Part of the Willoughby Spring Festival, the event presents a fantastic opportunity for suburban-dwelling beer enthusiasts to celebrate the best in craft beer on their home turf. The Willoughby Hotel transforms MacMahon Street into a beer mecca for the day, with 15 Australian brewers on hand showcasing their latest and greatest.
The fair will feature a mix of big and small breweries, from Cascade and Matilda Bay to Nomad and Dennis Brewery.
Willoughby Hotel's publican John McGurk says, "The Willoughby Craft Beer Fair has become an iconic event on the North Shore calendar. The team here have been able to create a fantastic day that allows our community to experience the fantastic products created by the Australian and international craft beer industry, which is continuing to see increased popularity within the local market."
Along with beer tastings, there are gourmet food stalls with menus to match the beers on offer, live music from local bands and things for the kids such as; face painting, a jumping castle and baby animals.
Tasting tickets for the day can be pre-purchased for $20 at the Willoughby Hotel or onlinehere. Tasting tickets will also be available on the day for $25. With more than 2,000 in attendance last year, it's a day not to miss.