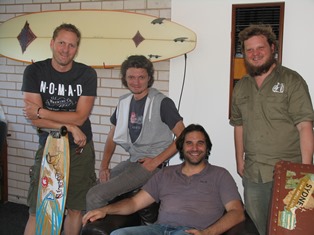 Some of the team behind Nomad Brewing Company
Nomad Brewing Company has opened in Brookvale on Sydney's Northern Beaches, cementing the area as a burgeoning craft beer hub.
Just up the road from 4 Pines and not far from the recently opened Modus Operandi, Nomad Brewing Company is an exciting addition to the area.
The brewery is a collaboration between Leonardo di Vincenzo from Birra del Borgo fame and Johnny Latta and Kerrie Abba from Experienceit Beverages.
"The aim of the brewery is of course to produce great beers but also to look at helping change the Australian beer drinking culture. In Europe beer is appreciated for what it is, the complexities of tastes and aromas that match perfectly with food," said Abba.
Nomad has launched with three initial core beers; Sideways Pale Ale, Jetlag IPA and Long Trip Saison. Currently all are in kegs and will be available in bottles in two weeks.
"As well as these core beers there will be a series of seasonals and special beers available and expect some great barrel aged beers as we have a grappa barrel brought all the way from Italy for this purpose," Abba said.
"Reactions have been fantastic as we already have two of the three core beers in many venues such as Frankie's, The Local Taphouse, Brooklyn Central and Flat Rock Brew Café."
The Nomad Brewing Company has a tasting room, which is open every afternoon for people to try the beers and take away a growler, or from next week to buy bottles.
Nomad Brewing Company is located at 5 Sydenham Road, Brookvale.