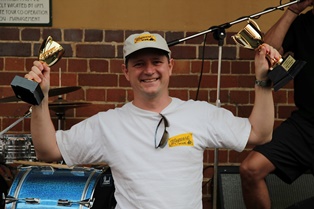 Wayward Brewing Company's Peter Philip
Wayward Brewinghas been victorious in its battle with multinational brewing giant SABMiller India to register its trade markWayward for beer in Australia.
The small Sydney craft brewery had been locked in a two-yearfight to register its trade mark, which was opposed by SABMiller India, a subsidiary of the global brewing giant SABMiller.
SABMiller India claimed a number of grounds in their opposition to Wayward Brewing's application to register Wayward in Australia. In evidence they relied upon the reputationof their brands Haywards 5000 and Haywards 2000, asserting that Wayward Brewing's use of Wayward for beer would confuse consumers in Australia.
The Australian Trade Marks Office found that none of SABMiller India's points of opposition held weight, with the hearing officer ruling that the Wayward trade markcould be registered in Australia and awarding costs against SABMiller India.
"Maybe they thought that a little guy wouldn't stand up to them, but I always knew we were in the right and I wasn't going to give up without a fight," said Peter Philip, founder and head brewer of Wayward Brewing Company.
"We always believed that the opposition was totally without foundation as our Wayward trade mark is completely different in sound, appearance and meaning to their brands.
"It is a great feeling to be finally vindicated in our victory but it has cost us a lot of time, money and stress wondering whether this massive global brewer was going to force us to change our brand and start all over with a new name. For me it was always personal as I have put my heart and soul into building this business."
Wayward is a small craft brewer specialising in off-beat beers with unique names such as Keller Instinct, a Bavarian Keller Bier, and Saizen Eurasian Summer Saison, which combined theEuropean tradition of the French Saison style with Japanese hops and Chinese Jasmine Green Tea for a distinctly Asian influence. The brewery also produced one of the strongest beers brewed in Australia with its "Devil's Advocate Eisbock" at 13% ABV.
The Sydney brewer recently secured premises in the inner-west Sydney suburb of Camperdown, which will become its permanent brewery facility in early 2015.
"We can't wait to open our doors to the public and finally have our own brewery," said Philip.
"We have been holding back on releasing a number of new Wayward brews that we think people are going to love."