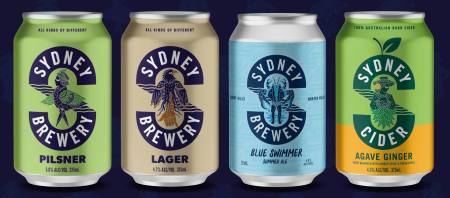 Sydney Brewery have unveiled a rebrand that looks to streamline their consumer facing presence and expand on their geographical reach.
Established by hotelier Dr Jerry Schwartz in 2012 in the inner Sydney suburb of Surry Hills, a lot of Sydney Brewery's releases had been named in reference to their surroundings.
But along with their new-look can range – that is complemented by their new "All Kinds of Different" descriptive – gone are names like the Surry Hills Pils, the Darlo Dark and the Paddo Pale for Pilsner, Dark Lager and Pale Ale.
Marketing manager Richard Feyn said that after a decade of marketing the beers and ciders through quirky, irreverent names, it was time for a major brand refresh, as the company expanded beyond their traditional Sydney home base. 
"While we have had our roots in Surry Hills since 2004, it became a little complicated when we added even larger production facilities in Lovedale in the Hunter Valley in 2014," he said.
"It did lead to something of an identity issue with the trade and even some of the public as we started expanding into interstate markets. We also broadened our range significantly, with cider becoming a very important component of the business, so we concluded we needed to revise and renew our brand DNA.
"Boldinc have done a great job in identifying where we sit as an independent brewery, which also specialises in cider. While popular and clearly a signature for us, our strategy of naming our products after Sydney suburbs had become a bit limiting, plus our design had become rather static. 
"However, we certainly won't forget that our roots lie in the melting pot that is contemporary Surry Hills, so our new look embraces the idea that our beers and ciders – just like our team and our loyal drinkers – represent 'all kinds of different'.
"We have also made a conscious decision to move away from being tagged a craft brewer to an independent brewery. We will build the new branding around having a core range that has the flexibility to accommodate multiple limited releases each year." 
Boldinc's creative director Steve Smith said: "As independent brewers, Sydney Brewery's second biggest asset (behind their awesome beers) is the stories these beers can tell, and we're proud to help them tell those stories through this redesign. 
"We really wanted to build a brand that captured the eclectic bunch of characters behind the brewery. The down to earth, the quirky, the artistic and the unexpected aspect that is at the heart of Surry Hills, part of Sydney that you can't put into a neat little box. We reckon it's the one place where the true character of Sydney all comes together: a unique mix of grit & polish, where no-one's a local but everyone's welcome."