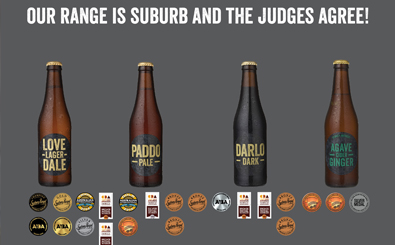 Sydney Brewery is heading into 2017 on a high, with a new beer, an export drive, a whiskey distillery, new NSW distributors, and a new bottling line and cannery at its Lovedale Brewery in the Hunter Valley, NSW.
To satisfy its growing market, the brewery has launched a mid-strength beer, Light Rail Ale, a California Common 3.5 per cent ABV lager fermented at warmer temperatures.
Sydney Brewery also has a perry under development, due for launch early next year. It will join the brewery's award-winning Sydney Cider, which took out Champion Cider at last year's Sydney Royal Beer & Cider Awards.
On the export front, Sydney Brewery fulfilled its first China export order, with a 'test' shipment of two pallets of Sydney Cider and Agave Ginger Cider. This will lead to the first container order in March 2017, with the ciders to be featured in China's largest supermarket chain. Sydney Brewery is also confident of converting current interest in Japan and the UK into formalised agreements and delivery by June 2017.
To cater for the increased production, a new bottling line became operational at the brewery's Lovedale facility, which has already increased average packaging by 300 per cent. A new cannery has also been installed, with three beers and two ciders to be rolled out simultaneously in 355ml cans around end of January 2017.
Spirits are also on the agenda for next year, with the distillery at Lovedale producing whiskey. The oldest barrel is more than two years old, and it only needs to mature one more year before being classified (by the Scottish standard) as a real whiskey.
Sydney Brewery has also developed an Aussie Eau de Vie, a spirit distilled purely from Sydney Cider. This will be launched as a pure spirit around March 2017, along with a passionfruit version. In the longer term there are plans to launch a spirit distilled from Agave Ginger Cider, which will offer added complexity.
The brewery's new NSW distributors Young & Rashleigh commenced distributing Sydney Brewery's range of beers and cider in October, supported by a team of 14 reps in NSW.
The reps have had a lot to crow about with 2016 another fruitful year for Sydney Brewery on the competition circuit. Over the year, 32 beers and ciders were entered into various local and international competitions, producing 31 medals. You can see some of the awards each beer and cider has received below.