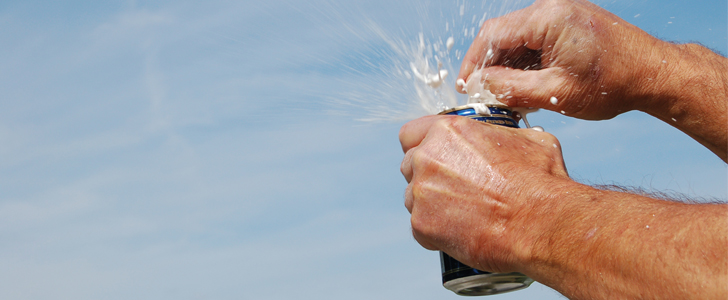 In our Summer Issue, Luke Robertson from Ale of a Time looks at the rise of canned beer and how people's perception of the humble tinnie is changing. Here is an excerpt from that feature…
Over the last couple of years, the story of canned beer has changed dramatically. Until very recently it was a story of mass-produced lager. While we saw the product rapidly building a following in the US, with breweries such as Oskar Blues and Maui Brewing long championing the much maligned tinnie, it wasn't until 2012 that Australian Brewery installed its own canning line. The first local small brewery to do so. The following year Mountain Goat released its canned Summer Ale. The easy-drinking, light-bodied pale ale soon became somewhat of an archetype for the segment in Australia.
Now Australian drinkers are increasingly thirsting for their beer to arrive in aluminium. Smaller brewers are using them as a point of differentiation, while larger brewers are dipping their toes into the space with beers in a similar vein to the Mountain Goat Summer Ale.
One of the most recent entrants has been Little Creatures. Fremantle based head brewer, Russ Gosling, said they had wanting to can beer for a while. After Dog Days Summer Beer was well received on tap and in bottles, they thought it was a good choice to test the waters
"I suppose really we've been a lot slower than we would've liked purely because we've been growing so quickly and there's been a lot of changes in the business. But basically earlier in the year we said look, let's just get this done," explains Gosling. "We had a discussion about what beer we should put into cans initially and we thought the Dog Days would be a good one to kick off Creatures in cans."
Another of the established players who entered the tinned space with a 'summer' styled beer recently is 4 Pines. Marketing manager, Alicia Freeman, says their Indian Summer Ale suited the format.
"It's been received really well. It's a recipe that we had been honing over a few years at the Manly brewpub," says Freeman.
It's a Lifestyle
While cans bring a whole range of benefits, one thing many breweries love is their versatility. The lighter vessel makes them ideal for carting to the beach, a festival, or a backyard BBQ. And being thinner than glass, they cool a lot quicker on arrival.
Colonial Brewing adopted cans in 2014 at its Margaret River brewery. Head of brewing, Justin Fox, said they love the product as it helps their beer fit naturally into drinker's lives.
"With the Perth lifestyle there's a lot of fishing, there's a lot of boats, there's a lot of festivals, every second house has a pool out the back – you want to be in the backyard enjoying a beer and you don't want glass in those environments," he said, adding "If it can be our beer coming along for that ride then that's wonderful."
Changing Attitudes
Cans have long been associated with mass-produced lagers and there is a persistent myth that they impart an unpleasant taste to the beer. A problem long solved by polymer lining, meaning no beer ever comes into contact with the aluminium.
Attitudes are rapidly changing and the only real pushback most breweries find is from high-end restaurants, rather than consumers. Renn Blackman, owner and brewer at Blackman's Brewery in Torquay, says they put a lot of work into staff and consumer education. Blackman's packaged product is exclusively in cans.
"A few people have come in and turned their noses up…[but] generally most people react pretty well once you tell them why you've done it," says Blackman.
"There's been maybe one customer at a winery who has been a bit unsure of it, so they haven't gone with it, but [with] every other customer we are just selling loads."
Sydney's Modus Operandi launched with a 'crowler' system for its beers. The crowler is basically a giant 946ml can (which they call a 'CANimal') that gets filled and sealed on the spot for the customer. They now also package their range in 500ml cans.
Like Blackman's, Jaz Wearin, co-owner of Modus Operandi, says education plays an important role in breaking down perception.
"After doing a few tastings where we pour our beer into some lovely glassware, both accounts and customers are often converted," she explains.
4 Pines' Alicia Freeman, believes the negative perception is being eroded, saying both the packaging and consumer attitudes have "come a long way" in recent years.
Gosling at Little Creatures echoes this, saying it's the hard work done by smaller brewers that has helped pave the way for the increase in acceptance.
"Historically speaking [with] canned beer in Australia it was kind of a 36-can block budget kind of format, but of course the craft guys have now taken to canning for all the good reasons that you and I know," Gosling explains.
Being in close proximity to Little Creatures' Geelong brewery, Blackman sees their moves as having the same effect for his much smaller operation.
"It kind of is good they are canning. For us, the fact that not a lot of people knew about craft beer until they opened; but now everyone [locally] knows what a pale ale is or what a Furphy is," he says.
Expanding Cans
All of the breweries in this article have recently expanded, or are looking to expand, their canned range and capacity.
While the 4 Pines team currently aren't canning their beer themselves, head brewer Chris Wilcock, says they would love to have their own line in the near future.
"We're looking into how this would best work with the small space we have left in the brewery. And of course that would mean more canned beers," says Wilcock.
Colonial, meanwhile, has grown its core canned line-up to include a Pale and an Australian IPA. A new line was recently installed at Colonial's Port Melbourne facility, in addition to the existing one in Margaret River.
Little Creatures, whose first release was brewed in Fremantle and canned at West End brewery in Adelaide, will soon install a line at its Geelong brewery. Gosling says once that happens he would love to see their famed Pale Ale can-conditioned at some point in the future.
"I think a couple of the core range would probably suit the canned format as well but it would be nice to have the option, should we so wish, to put some of our winter and summer seasonals in can if that's what we think is appropriate," he says. "Certainly from us as brewers that would be a challenge we'd love to get stuck into. I think all the team are kind of super excited about getting can-conditioned Pale Ale out into the market."
However he stressed that discussions about the what-and-when are still yet to take place internally.
"I think really the Dog Days viewpoint is let's just see how it travels in market and have a discussion from there," Gosling adds.
A Vessel for Innovation
Colonial's Small Ale, Pale Ale and IPA all come in cans with a '360' lid. The lid rips completely off, essentially turning the can into a cup. Fox says the difference is notable when compared to drinking from a regular can and that makes the extra cost worth it. Disappointingly for South Australian drinkers, their 360 lid is unavailable due to recycling laws.
Colonial also print a small part of its cans with thermal ink. It turns blue when at 3°C or less. Fox says this isn't something they advertise and even regular customers might not know it's there until it is pointed out.
As for what's inside the can, Mornington Peninsula has packaged two releases with nitrogen gas. A first in Australia, they have worked with Chart Industries and Vault Brewing, in the US, to perfect the process, which does require some consumer participation.
"You can't just pour it out normally like a normal beer because you want the nitrogen to mix through, we call it vertically with enthusiasm," says general manager Matt Bebe.
Given the rapid rise of canned beer in the craft beer world, "with enthusiasm" could also be used to describe the overall market reaction to this aluminium cased revolution.
To read the full article, subscribe to Beer & Brewer here.