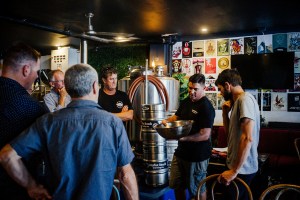 Craft breweries at the Sunshine Coast have become an increasingly important attraction for holiday-goers, according to Josh Donohoe, who runs craft beer tours in the area.
This comes on the back of the Sunshine Coast's Moffat Beach Brewing Co winning the Champion Small Brewer of Australia award in the Indies along with two gold medals, while Maleny-based Brouhaha Brewery also took two golds, and silver medals were awarded to Macleod Brewing Co in Maleny, Sunshine Brewery and Land & Sea in Noosa.
"One of the most interesting sessions at BrewCon was the 'Will Travel for Beer' section, because it highlighted how craft beer can add a distinct 'taste' to a region's tourism offer, and complement the destination's other food and natural attractions," Donohoe states. "The Sunshine Coast's craft breweries can be found in picturesque locations along the coast and in the Hinterland, and because they are now considered amongst the best in Australia they have become an attraction in their own right.
Donohoe's Sunshine Coast Craft Beer Tours has seen its scheduled tour numbers grow by 150% and the number of private tours triple over the past 12 months. In addition, the region held its first ever Craft Beer Festival in 2017, attracting over 3,500 visitors.
"The growth in organised craft beer tours reflects the growth in craft breweries operating in the region," adds Donohoe. "When we began tours in 2016 there were just three onsite breweries operating. Today, we have 12.
"What makes 'beer tourism' so attractive for visitors is that it provides a really rich and interesting insight into the character of the destination. Brewers are invariably passionate about their trade and love sharing stories about the trials and tribulations of setting up a brewery and the sweat and tears that go into every brew, as well as sharing experimental and seasonal beers with visitors. Wine tourism is already well established in Australia, but craft beer tourism has just as much potential."
"Food and wine tourism are already well-established as prime drivers of tourism around the world, and craft beer is now emerging as an equally dynamic growth sector, with the more casual nature and 'earthiness' of the product matched by high-quality and very distinctive varietal beers," adds Simon Latchford, CEO of Visit Sunshine Coast.