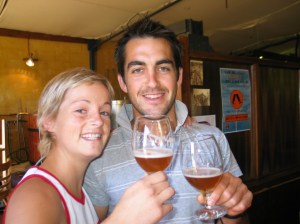 Last month, as Bridge Road Brewers celebrates its 13th birthday, Beer & Brewer explores the brewery's story.
To celebrate the milestone, Bridge Road enjoyed a Birthday Bash at the brewery on Friday 8 June, as well as launching its B2 Bomber Mach 8.0 and Bling Bling (330ml) nationally. Ben Kraus and Maria –Frischmann set out to start a microbrewery at Kraus' hometown in Beechworth, Victoria, back in 2005, having moving from Tirol.
"That was on the back of at least 12 months of work establishing the site in my parents' place in 2004," recalls Kraus. "Reflecting on it now, it was a pretty bold and naïve move for a couple of 24 year-olds with $15,000 as starting capital. I think having such such strong family support from my parents was the real key behind getting the brewery off the ground. And now 13 years later, Dad is building a new kitchen for the venue and mum's running the venue, while our venue manager takes a holiday, so in the end nothing really changes."
Over the past 13 years, the brewery has featured at the first microbrewers showcase in Federation Square at the same time as being on tap at Transport Bar, has collaborated with Norwegian brewery Nogne O to create an India Saison – the first commercial beer in Europe to use Australian Galaxy and Ella hops.
"Since then, I have had the pleasure of brewing with Aussie hops in Belgium with De Struisse, California with Stone, Austria with Starkenberger and Bierol, and twice in Italy with Birra del Borgo," says Kraus. "On the back of the trip to California we were also lucky enough to represent at the Firestone Walker festival and also take over the taps at Mikkeller Bar in San Francisco."
The business has grown slowly and organically, funded from within. In its first year, Bridge Road produced around 40,000 litres. In the next year, the brewery is on target to reach 1m litres. Two years ago, the brewery launched its Respecting the Craft logos, which was put on all packaging to reflect the brewery's values, its staff and its beer.
"As we head into year 14, we have more steady expansion underway and I am currently enjoying trying to figure out how to get more out of the unique space here in Beechworth," says Kraus. "Bridge Road Brewers owes a big part of its success to our hard working team, from the venue in Beechworth through to the sales team on the road around the country. But we also owe the most gratitude to the people who choose to spend their hard earned money on our beer, so I'd like to take the opportunity to extend my biggest thanks to these people.
"We are part of an awesome community, locally here in Beechworth, nationally in Australia as well as internationally, with craft brewers from around the world sharing the same open door philosophy."