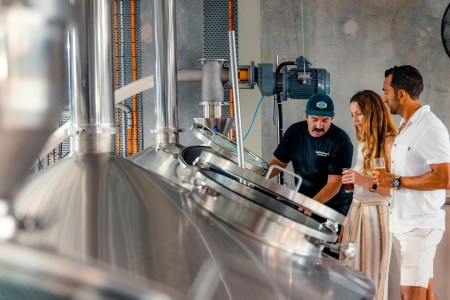 The Sunshine Coast's craft breweries are set to collectively mark the return of interstate travellers by throwing what they're calling "the country's biggest welcome back party".
From 4pm AEST time tomorrow (December 17) the 21 craft breweries operating in the region will simultaneously throw open their doors to offer travellers the chance to reunite with friends and family by doing something they haven't been able to do for so long.
And to top it off the breweries are also offering guests on the night the opportunity to win a year's supply of local beer.
The announcement comes after Queensland welcomed back interstate visitors this week which was four days earlier than expected after the state reached its 80 per cent double vaxxed target ahead of schedule.
Visit Sunshine Coast CEO Matt Stoeckel (pictured below, on the left, with Sunshine Coast Craft Beer Tours owner Josh Donohoe) said the welcome back party is all about reuniting loved ones after months of border closures, while shining the spotlight on the Sunshine Coast as "Australia's craft beer capital".
"After months of uncertainty for the tourism industry, our state's borders reopening to Australia just in time for the holidays is a moment worth celebrating," he said. "This day has been a long time coming, not only for our local business who rely on interstate travellers, but friends and family who have been separated from their loved ones.
"We wanted to do something that made people smile, and the welcome back party is about having some fun."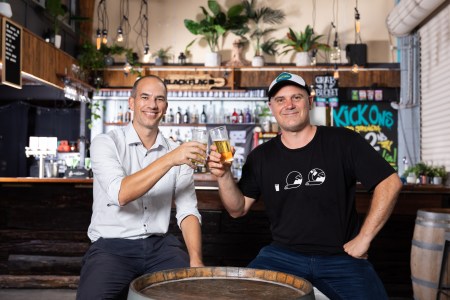 Matt said hosting the event simultaneously at the region's craft breweries was a no-brainer.
"With 21 craft breweries across our region the Sunshine Coast is home to the largest number of breweries per capita in the country, making us Australia's craft beer capital.
"Our breweries are so much more than producers of award-winning beer, they are places to come together, enjoy good food and drink, listen to live music and have a good time.
"Behind every one of our brewers is a story with many focused on sustainability and celebrating our region's local produce, and that's something we want to share with visitors."
No one knows the Sunshine Coast's craft beer scene better than Josh Donohoe, who for the last five years has run Sunshine Coast Craft Beer Tours.
He said the region's craft beer scene had really come of age, and the local brewers were excited to host Australia's biggest welcome back party.
"The Sunshine Coast has such a diverse range of breweries and venues that have become incredibly popular for locals and visitors to experience," Josh said. "With borders reopening it's the perfect opportunity to celebrate with family and friends at our local breweries who will all be participating in the event with live music, great food specials and new beer releases.
"We encourage those visiting the Sunshine Coast for the first time to join one of our tours and get behind the scenes to learn more about the beers and the stories of our local craft beer industry."
To find out more, visit visitsunshinecoast.com/craftbeercapital.
This is an edited version of a media release distributed by Visit Sunshine Coast.