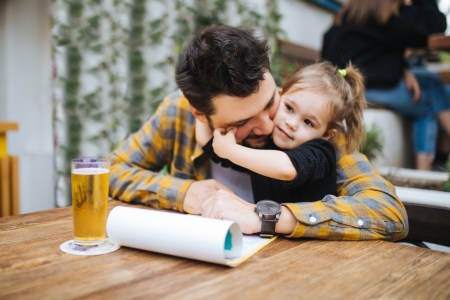 With Summer here, and no and low (NoLo) alcohol craft beer surely making its presence even further felt across Australia, we chart how the currently booming sector came about, where it currently sits and attempt to predict where it might be heading with some of the key exponents of the category.
In the constantly evolving world of craft, it might be difficult to imagine that a sub-style of beer, purposefully made with as little alcohol as possible, might flourish against a backdrop of highly varied, intensely flavoured ales and lagers. But, as is the way with an industry fuelled by product diversity and creativity, the NoLo segment is rapidly growing, with a surge in variety and availability piquing the interest of many a craft devotee.
A growing consciousness around health and wellbeing may be a catalyst for the growth, with a clear message from consumers that there's plenty of space in the market for beers that deliver on flavour and quality while also, potentially, being a better option for the mind and body. Though craft drinkers certainly aren't turning their back on their favourite alcoholic beers, it has become clear that interspersing higher ABV and adjunct-laden ones with NoLo alternatives has been an increasingly popular choice in 2021.
A new movement is afoot in the often-fluctuating world of craft beer and it's promoting a balance that's long been yearned for.
"Consumers are beginning to realise that there are more guilt-free ways and occasions to enjoy something tastier and more refreshing."

Jon Seltin, Brick Lane Brewing
If you jump back in time to craft beer's beginning, a low alcohol alternative could seldom be found among the shelves of colourful and varied craft beer bottles. Yet in fairness, it seemed a craft drinker who was conscious of a beer's ABV could scarcely be found then as well. Weihenstephaner low alcohol Hefe, Carlton Zero, Becks Blue and a couple of other mainstream offerings were about as good as it got for those with an intolerance, or people who just simply wanted some moderation.
It would take some time for lower alcohol craft beers to catch on before "session beers" eventually emerged and became as commonplace in the Australian beer vernacular as any other category. Beers like Colonial's Small Ale and Little Creatures' Rogers' before it, redefined "mid-strength" beers and proved that lower alcohol didn't need to compromise on flavour. It also further reinforced they were a suitable option in social settings when two or three typically six-plus per cent craft beers could be prohibitive. The session beer category exploded and today most breweries have something around the 3.5% mark on their lists, whether it be a light fruited sour, session IPA or a lager, with the mid-strength label a blank slate for brewers looking to tick a box and please a broader spectrum of drinker.
There's no doubt the session beer fanfare inspired further innovation and consideration in the brewing world. With some commercial examples already existing, craft brewers looked to the specific methods of production to brew lower alcohol, full-flavoured craft beer. A growing health-conscious consumer was intrigued by "healthier" drinking offerings – hard seltzers boasted low sugar and low calories, while the perks of drinking more beers due to lower alcohol was already being appreciated. Before long, the NoLo category was well established, and rapidly growing.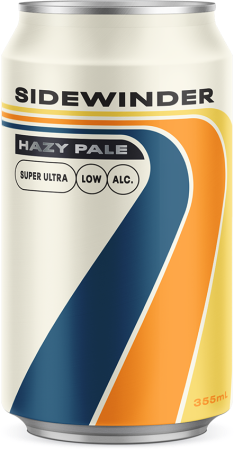 Jon Seltin, head brewer at Melbourne's Brick Lane Brewing who currently produce the Sidewinder Hazy Pale (1.1%) plus numerous well-known NoLo brands via contract, has been part of that growth and knows his way around the segment.
"The quality and diversity of brands is better than ever, and that, coupled with more conscious consumption of alcohol, means the segment is really exploding," Jon told us. "NoLo opens up opportunities to relax and enjoy a beer and I think this is why the category has grown so much in the US and Europe. As better quality products emerge consumers are beginning to realise that there are more guilt-free ways and occasions to enjoy something tastier and more refreshing."
In bottleshops today, you most likely wouldn't be able to count the NoLo beers offered on two hands. The range is as diverse and appealing as any of the higher alcohol options on offer, at least from a marketing and branding perspective. The reality is, these lower alcohol offerings are often coming from the same place as "conventional" craft beers, so the sales pitch is well considered. That isn't to say it's all marketing, however, with brewers applying the same effort and creativity to produce truly exceptional NoLo offerings for consumers.
Jon explains: "There are lots of technical challenges that need great quality management systems to ensure the beers are safe, stable and truly low or no-alcohol. A batch-to-batch variance of 0.1% ABV in a 5% beer is negligible, but in a 0.5% product it is a 20% difference! Controlling consistency here is a key factor."
Brick Lane's Sidewinder is one of many lower alcohol options widely available at the moment but, being a hazy pale ale, is indicative of the variety in the category. The segment has seen an influx in beers that can easily rival their conventional counterparts, like sours, stouts, and IPAs. As their popularity grows, so too does their variety, distribution and innovation.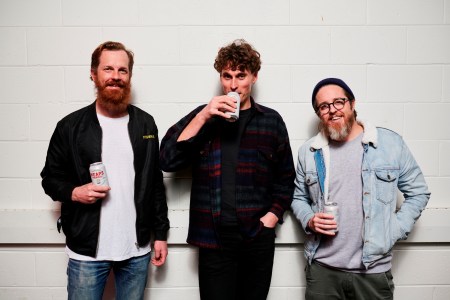 "Our beers are made in the same way, and with the same four ingredients, as 'normal' craft beers."

Ben Holdstock (centre) with fellow Heaps Normal founders Andy Miller (left) and Pete Brennan
Though the perception might be that NoLo beers are created via a process that removes the alcohol, it is more typical that the same processes used in conventional brewing are applied. Alcohol removing processes (like RO filtration, distillation and heat treatment) do exist, but they're more suited to beers, and other products, less dependent on defined hop, malt and yeast characteristics. In the world of craft beer, these often flavour-stripping practices don't suit, and brewers need to use specialised processes and ingredients to produce low and non-alcoholic beers that retain full flavour.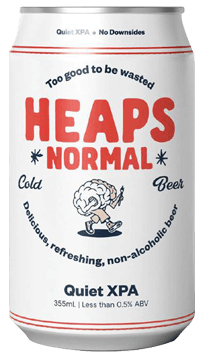 Ben Holdstock, Heaps Normal's co-founder and head of stock, knows the challenge of producing quality low-alcohol craft beer, with the brand's flagship Quiet XPA undoubtedly one of the most popular products in the Australian Nolo segment – or any of beer's segments for that matter.
"Product development has been a brewing challenge since day one," Ben said. "Getting the balance of sweetness and body is critical for non-alcoholic beers to be sessionable.
"Our beers are made in the same way, and with the same four ingredients, as 'normal' craft beers. We don't use any special additives or remove any alcohol post-fermentation. Instead, we make a few tweaks to the brewing process and use a special strain of yeast to produce a beer with only a trace amount of alcohol."
Yeast is a big player in the NoLo arena, with many brewers utilising newly developed, complex strains, like Fermentis' SafBrew LA-01 that can yield 0.5% ABV once fermentation is complete. In many cases, few other provisions are required that stray from the norms of craft brewing to yield high quality and flavoursome NoLo craft beer.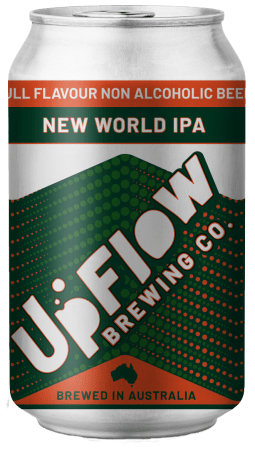 UpFlow Brewing's Chris Menichelli explains: "At UpFlow, our beers are fermented using a unique yeast, to no more than 0.5% ABV, so careful management of sugars in the mash is crucial. We want to extract enough malt character for complexity and body but are mindful of producing a finished beer that is dry and refreshing. Our beers are gently pasteurised which ensures long-term shelf stability in the absence of greater alcohol content."
Jon agrees, that having control over the systems and processes is vital.
"There are challenges related to flavour and aroma; making sure the beer is never 'worty' or over sweet, or on the other end of the spectrum, watery. Balance is key with NoLo beers, and throughout the process you are brewing on a knife's edge, so great process control is essential."
For craft brewers, it's an important distinction that beers are rarely "alcohol removed" or de-alcoholised. In most cases, and with thanks to innovation and advancement in brewing practices and process, NoLo craft beers are made in a way that is entirely comparable to conventional counterparts, but more importantly these beers are made with the same quality control and to the same high standards that you would expect from any of your other preferred craft beers.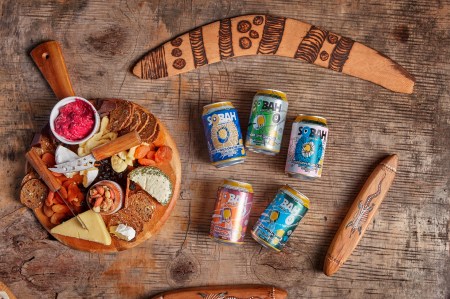 "We strive to do less harm and more good, and the more non-alcoholic beer we can sell, the more good we can do for others."

Clinton Schultz, Sobah
It's no secret there are drawbacks to consuming alcohol, and recent trends suggest the average person is becoming increasingly concerned with health and wellbeing. For many, there's plenty of good reasons to reduce alcohol consumption, especially if there's a feeling of overindulging. For many who are working in the NoLo space, this is a firsthand experience and often a motivation for producing high quality NoLo products.
One such brand is Sobah Beverages which was developed by Clinton Schultz, who after shifting to a life of sobriety in 2014, quickly realised good quality, non-alcoholic options, particularly in social settings like bars and pubs, were few and far between.
"Quitting booze wasn't actually that hard for me, but the social aspect created difficulties," he said. "I got really frustrated every time I went to a bar and asked for a non-alcoholic drink and I'd be told 'we've got soft drink or juice' or I'd be stung six dollars for a soda water with a slice of lime in it."
For Sobah, the goal was to create something sophisticated that could be enjoyed by those who don't want alcohol, without compromising on flavour or quality. Working with native ingredients, they produce a range of non-alcoholic craft beers, but importantly their business is built around wellness, and being a positive contributor to the Australian drinks market, while also championing First Nations culture.
"An integral part of the process of using bush tucker in products is ensuring that this is done ethically and with respect to the Traditional Owners for where the plants come from. Native food is not just a trendy ingredient for us, it's our lore. We are very sensitive to this as a First Nations business. As demand for bush tucker grows, we're at risk of being edged out of the native foods industry as less than one per cent of First Nations peoples are actively involved in the industry. Our aim is to ensure our supply chain is working ethically with local Aboriginal and Torres Strait Islander peoples, and to maintain our place in a space that is inherently ours.
"We actually see ourselves as a cultural and wellness business. We strive to do less harm and more good, and the more non-alcoholic beer we can sell, the more good we can do for others. We're also in the process of becoming the first non-alc brewery to be B Corp Certified – so that we can be one of the best businesses for the world, not in the world."
Sobah aren't alone in their quest to do better, with other brands understanding the value in offering a non-alcoholic beer over higher-in-sugar soft drinks and fruit juice, with the benefits being multi-faceted.
As Ben explains: "Our aim with the Quiet XPA is for it to be drunk just like normal beer to help dispel the potentially awkward feeling of being in a social setting drinking soda water. We hope that as a culture we're getting our heads around the idea of non-alcoholic beers more and more. A well-made non-alcoholic beer hits the spot just like a normal beer. The same can't be said of soft drinks and, in our opinion, non-alcoholic craft beers are definitely a tastier and healthier option than soft drinks too."
The argument for NoLo beers certainly seems to stack up when the conversation turns to health and wellbeing. For those who like full-flavoured beer, alternatives have been limited and aren't necessarily healthier either. Many now realise the positive impacts of reducing our alcohol intake and NoLo brands are getting behind the movement by offering drinkers the craft beers they crave.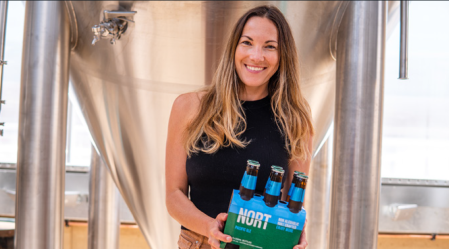 "There is an increased expectation on producers and retailers to be socially responsible and inclusive of all consumers."

Jaz Wearin, NORT
As the founder of one of Australia's most successful non-alcoholic craft beer brands, NORT's Jaz Wearin, who also co-founded Modus Operandi Brewing, knows better than most the positive impact products like hers have had on drinking culture here. But she's also seen how deeply the movement has become embedded and normalised in such a swift period of time.
She recounted a recent scene at Modus' impressive new Merewether venue that has become increasingly also seen in parks, beaches and, yes, even breweries this year.
"There was a table of eight people all drinking non-alc options. There were cans and bottles of all the NORT flavours, there were bottles of Plus & Minus shiraz and sparkling and they were having a blast, enjoying each others company in a brewery. It was awesome to see and I love that we have been able to create a product that is inclusive."
It's a movement that's been noticed by the Endeavour Group too, with the likes of NORT being put front and centre in their BWS and Dan Murphy's stores in a new initiative in tandem with safer drinking campaigners DrinkWise. The program, borne out of research that showed at risk drinkers were moderating their drinking via NoLo alternatives, not only highlights the increase in availability of lower alcohol options on the market but includes in-store collateral that encourages buyers to consider lower strength options.
"I speak to customers and they are amazed at how this balance can be achieved so easily and they don't feel like they are missing out but that their overall wellbeing has dramatically changed," Jaz added. "And I believe Endeavour have witnessed this and are catering for this burgeoning category of moderation of consumption. There is also an increased expectation on producers and retailers to be socially responsible and inclusive of all consumers."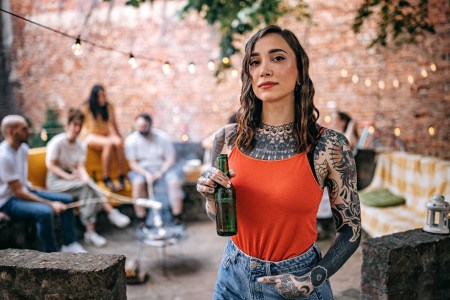 "It's become clear there is a movement towards more conscious alcohol consumption and the ever-progressive craft beer community is embracing it."
There's much to look forward to in the NoLo drinks space, with many breweries developing expansive ranges that cover just about every style a craft drinker might desire while the category increasingly expands as more realise the benefits to be had.
'It's growing every year and that growth multiplies each year," Clinton said. "For the first two years, we were laughed out of bottleshops, cafes and bars because we were pioneers and people hadn't got their heads around a non-alcoholic beer. Now Sobah is available in nearly 1,000 locations across Australia and New Zealand. We produced 20,000 cartons in the past 12 months which we're aiming to triple in 2022."
It's a sentiment that resonated with Ben.
"The NoLo category is the fastest growing beer category in Australia from what we've seen. It certainly doesn't feel like a passing trend. When we look at international markets like the US and Europe, it's clear Australia is only just starting to catch up with the rest of the world when it comes to discovering delicious non-alcoholic options."
As with anything in craft beer, it is hard to predict what the future of the NoLo category looks like. In the last 12 months alone we have seen exponential, unprecedented growth across new and existing brands. Perhaps the COVID pandemic played a role in the way drinkers approached their consumption, but it has become clear there is a movement towards more conscious alcohol consumption in Australia, and the ever-progressive craft beer community is embracing it.
There is a lot to be said about the throwaway, hype culture that often dominates the craft beer landscape. Given its swift rise in visibility and perhaps a COVID-inspired push in popularity, it would be easy to dismiss the recently popular trend of NoLo craft beer as a flash in the pan.
When high ABV, experimental and adjunct-heavy beers are typically the first choice for many consumers, one could assume NoLo beers are just having their moment. But many commentators, brewers, producers and consumers strongly believe the newly popular category is here to stay, with market data suggesting we're in the middle of a rise that is yet to hit a peak.
From the session beer blitz, NoLo has created a new platform for brewers to experiment, innovate and above all else, cater to a thirsty, spoilt-for-choice craft consumer.
When "big" beers are the predominant filler in most fridges and tap lists, NoLo beers cleverly offer a different experience for craft drinkers.
This feature appears in our recently released Summer edition. To see it in print, and to read more features like it, subscribe to our quarterly magazine.