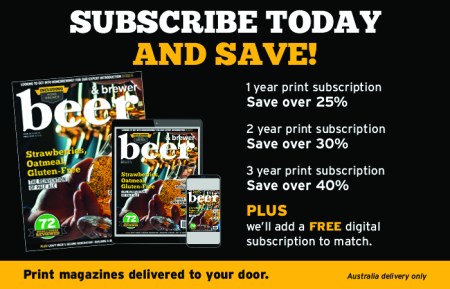 Want to expand your beer knowledge? Get into homebrewing? Discover where you should be drinking when the COVID-19 chaos is over? Or maybe you've just run out of good reading material while in self-isolation?
Subscribe now to Beer & Brewer magazine and save $$$!

PLUS take out any print subscription today and we'll add a FREE digital
subscription to match your order.

Here's the offer:

1 year subscription – save over 25% on the cover price
2 year subscription – save over 30% on the cover price
3 year subscription – save over 40% on the cover price

And get a FREE digital subscription!

Prices start at $29.50 for a 1 year subscription.
Beer & Brewer is the magazine for everyone with an interest in craft beerand cider – whether you prefer drinking it or making it – or both!

Every issue is packed with great content:
• Local and international beer news.
• The latest beer and cider releases tasted and reviewed.
• A regular homebrewing section with tips and recipes for beginners
and experts alike.
• Features on beer styles, food pairing, travel, brewing equipment and
ingredients.
• Brewery profiles and interviews with top brewers.
• And so much more!

Enjoy!