One of Margaret River's smallest breweries has found a silver (or should that be aluminium?) lining as they fight for survival amid the COVID-19 downturn.
The family-owned Cowaramup Brewing Company, which has been operating for 13 years, has used their sudden amount of downtime wisely and have put their beers in cans for the first time.
They have canned four different beers: their award-winning Pilsener; Hefeweizen; India Pale Ale; and Chocolate Porter. The cans will be sold in four packs and 16-can cubes and will be available for sale at the brewery and at various craft beer bottle shops in South West WA and in Perth.
The decision to finally get around to canning came when the brewery closed its doors back on March 23. They saw it as the perfect time to fast-track plans they had set for far down the line. Previously they had sold most of their beer at their brewpub as well as distributing kegs to various bars in WA.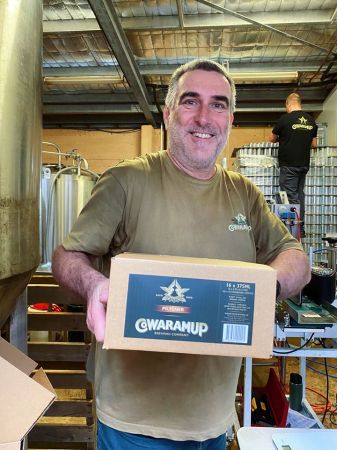 Head brewer Jeremy Good said: "I wouldn't say COVID 19 has been a good thing for us or many other businesses in WA, particularly in the hospitality or tourism sectors. In fact it has been a very difficult time for most. For us it really became a matter of survival.
"Well before COVID, we had identified a need for greater brand recognition and awareness in the market simply because of the increased competition and rapid growth of the craft beer industry as a whole. We knew we needed to be putting beer in cans, however, finding the time while running the brewery and restaurant was proving difficult as we are a small family-owned operation."
On Monday, when the first beer was canned, they said it was "all hands on deck", along with The Rolling Publican, a Cowaramup-based business that provides a mobile canning facility to small breweries.
For more information head here.
Contact Beer & Brewer by clicking here to share your news and views.