Stone & Wood has "gone against the grain" by launching an Imperial Berliner Weisse with raspberries, as part of the independent brewery's new limited-release Counter Culture range.
It's a killer – that's our take on the new Imperial Berliner Weisse with raspberries we just released, as part of our limited-release Counter Culture range.
Unapologetically strong and anything but subtle, Killer Kween pours a deep pink-rouge hue with a hazy body – thanks to the huge amounts of raspberries added – matched by a fluffy white head that settles over time.
As kweenly in aromas as in appearance, straight away fresh raspberry and tart fruit aromas hit the nose, followed by strong bursts of raspberry flavours braced with assertive acidity. Alongside the beer's Australian wheat and pale malts are Tettnang hops and Belgian saison yeast, a strain that brings a lightly spicy, complex aromas and mild fruitiness. Couple that with a light, effervescent spritz and a boozy 7.6% ABV, and it leads to a super balanced, refreshing finish.
To deliver a delicious sourness, the strain lactobacillus plantarum was used in the primary fermentation that reached 28 degrees, and in the secondary two-week-long fermentation; here, 1.2 tonnes of raspberries were added late.
Killer in name and nature, we chose 'Killer Kween' because we think the word 'imperial' has a regal air to it. That, along with the release of the film Bohemian Rhapsody coinciding with the conception of this release, was the inspiration behind the name. While Freddie Mercury was on the mind, it was the idea of creating a strong female character that, for us, brought the beer style to life. Killer Kween is a modern-day matriarchal majesty, with street edge and kultural cues.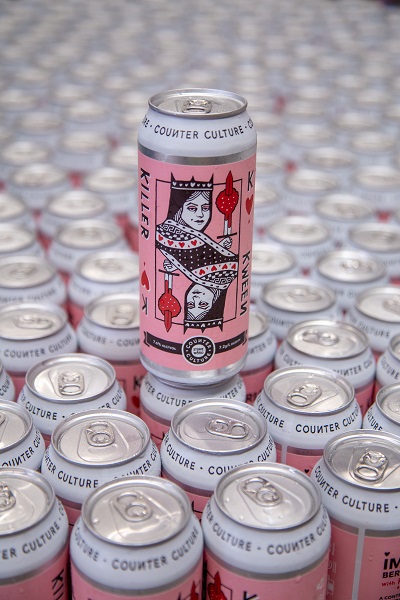 Like all the limited-release beers in the Counter Culture range, Killer Kween will be sold in packs of two 500ml cans online, as well in bottle shops and on tap at our brewery in Byron Bay, albeit in limited volumes. After eight weeks, the Kween will make way for a different Counter Culture beer and disappear.
Visit www.stoneandwood.com.au/counter-culture for more.
Contact details
Stone & Wood Brewing
Byron Bay, NSW
(02) 6685 5173