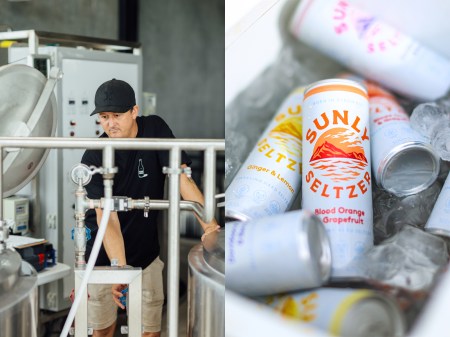 Beer & Brewer spoke with Stone & Wood and Sunly Seltzer brewer Josh Waters, and Sunly Seltzer brand manager Pat Coulson, about how their new seltzer is brewed much like a beer, some of the challenges involved in brewing it and why they're entering the market.
Their range of seltzer called Sunly have an ABV of 4 per cent, are gluten free and vegan-friendly, feature 3g of carbs and come in three flavours: Davidson plum and berry; ginger and lemon; and blood orange and grapefruit.
What is involved in the brewing process and how similar is it to brewing a beer?
JW: Brewing seltzer has many similar processes to brewing beer but the main difference for us is the sugar source. For Sunly Seltzer, we brew with hops, water, yeast and a gluten-free grain called sorghum, instead of malt, which is then boiled in the same way as we would normally boil malt wort. At the final stage, we infuse the liquid with natural ingredients to give Sunly its three different flavour combinations.
What's it like from a brewer's perspective to brew a seltzer?
JW: We treat Sunly Seltzer the same as any fermented beverage, but of course the challenge here is brewing something completely new and different and finishing with a great product. Brewing seltzer is, however, a more time-consuming process than brewing beer and we are learning as we go. It's an exciting process and we are really pleased with how all three Sunly flavours are tasting.
What challenges lie in the brewing?
JW: The main challenge we face as brewers is that seltzer is a new style of beverage for us, so there's been a lot of experimentation to make sure we brew it the best way possible. Our quality team is a big part of that process and it's taken us a long time in R&D to get it to where it is now. To get the balance of flavours, aroma and the finish perfect and consistent will always be a challenge – as brewers this is what we strive to do every brew no matter what we are fermenting.
Why brew a seltzer now?
PC: We pride ourselves on being a progressive business and leaders in independent craft beverages. We keep our fingers on the pulse of alcoholic drinks markets and the trends globally and our brewers love to innovate. We felt the time is right for Australian drinkers to discover the seltzer category, a category that is booming across the world. We feel that consumers are more conscious than ever about what they're drinking, what goes into the liquid and the brand behind it. We like to think Sunly Seltzer, with 90 per cent less sugar than a RTD (and only 3g of sugar), being gluten-free, vegan-friendly and great-tasting, will cater to these drinkers.
Sunly will sit under its own brand Sunrise Drinks Co, a sister company to Stone & Wood, Fixation Brewing and Granite Cider Belt Co, which together sit under the umbrella company Fermentum.
It will be sold in packs of four 300ml cans or cartons of 16 cans. It will also be available at Stone & Wood's Tasting Rooms in Byron Bay and its brewery in Brisbane.
Head to the Sunly website here for more information.
Contact Beer & Brewer by clicking here to share your news and views.