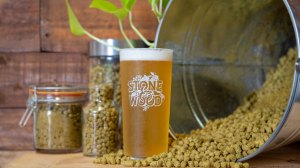 Stone & Wood has released an "ultra-dry-hopped" version of its flagship Pacific Ale to celebrate 10 years of brewing hazy beers.
Dubbed 'The Prequel', the Australian style ale (6.8% ABV, 45 IBU) pours hazy gold and offers powerful aromas of passionfruit, pineapple, mango and citrus, thanks to the addition of more than 25 times the number of Galaxy hops – 99.5 percent of which were added into the whirlpool – when compared to Pacific Ale.
"For the recipe, we've used all of the same ingredients but we've literally just pumped it all up," Jasmin Daly, Creative and Community Manager at Stone & Wood told Beer & Brewer.
"What you're going to get is bigger aroma, bigger flavour, but a beer that's still not too bitter. I'd say most people will be able to see the similarities [compared to Pacific Ale] but it's just going to be more punchy."
But what about the name? As Daly explained, 2018 sees Stone & Wood enter its 10th year of brewing the "approachable, sessionable beers" that have been its trademark from the beginning.
"What you see a lot in the industry is most breweries start with a really big, 'out there' beer and then they bring out a session beer. But for us, when we started, we did the complete opposite.
"With the 10 year anniversary, we decided it was time to pay homage to the Galaxy hop, which is really the cornerstone of our Pacific Ale. So we brewed what initially we could have brewed 10 years ago, but instead we didn't – so it's called The Prequel."
In terms of the contemporary popularity of the Galaxy hop among craft brewers today, Daly said that Pacific Ale played a "pretty huge role".
"Back in 2008 there was definitely some game changers and independent breweries that were already doing really amazing pale ales, but I guess what Brad [Rogers, co-founder] did, which was the point of difference, was that he used this experimental hop that hadn't even been released at the time, and turned it into what is now the Pacific Ale," she said.
And while The Prequel is a limited, keg-only release for now, Daly added that Stone & Wood is "definitely not ruling out" wider distribution in the future.
"For us it's just an opportunity to celebrate the 10 years and it will really depend on what the response is from the drinkers.
"We've also got some pretty exciting releases coming up for the back end of this year including a dedicated 10 year beer – so there's definitely lots to look forward to in the next 6-9 months."
You'll find a full list of venues pouring The Prequel on the Stone & Wood website. It will also be available at GABS.