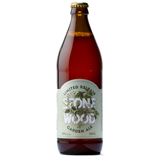 The laid-back Stone & Wood crew from Byron Bay have quietly released a new summer brew they call Garden Ale. At its core, it's an English ale that the team has tinkered with, introducing a bit of 'new world' appeal to the style by both kettle and dry hopping the brew with Ella hops, balancing the mixture of pale and crystal malts.
It's been designed specifically for sessioning – preferably in a beer garden – and at a very mild 3.8% ABV, it could be the middle-weight winner of the summer.
For more information, check out the Stone & Wood website.