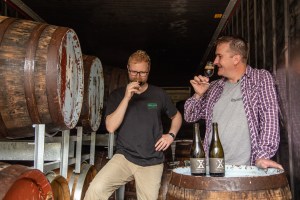 Stone & Wood Brewing Co. is celebrating its 10th birthday with a range of new releases and events.
"We've released some memorable beers but until now, our focus has also been on getting enough of it to our thirsty drinkers," comments head brewer Caolan Vaughn. "We're proud of the journey so far and having an incredible, passionate team that's been along for the ride, but all of us at Stone & Wood are even more excited for what's to come."
One of the major changes is that the brewery's flagship beer, Pacific Ale, is now available in cans. The canning line was only ordered six months ago and was only commissioned last week.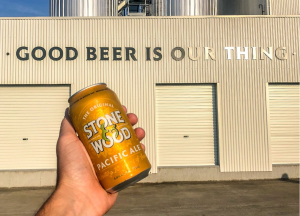 "From when we first released the original Pacific Ale, our customers and our drinkers have begged us to put it in a can," says Vaughn. "Up until now our focus has been on making enough of the stuff, so we're pumped to be able to release a commemorative '10 Years of Summer' Pacific Ale can now. Cans are playing a bigger role and often in occasions where bottles don't reach. We've also had endless requests from drinkers, so the timing feels right.
"Since we put the post up on social media about it, it's been one of the mostly highly engaged posts ever. It's been wonderful to have that and to feel the love and excitement."
The brewery is canning on-site at the Murwillumbah Brewery using a KHS canning line from the USA. The cans are currently on limited release, but the brewery plans to release it permanently in the New Year, with off-premise the main focus. However, where the opportunity arises, Stone & Wood cans will be available in certain venues. Other beers within the range are expected to also be canned, alongside other new releases in the new year.
Last week, the brewery unveiled SWX, a 10% ABV imperial stout to celebrate its 10 years. Hand packed in 750ml bottles, SWX has spent time in barrels and is available in bottleshops and on tap. 200 limited SWX packs are also available from Stone & Wood's online store from 2 November for $59.
The brewery's tasting notes for the beer say: "SWX pours jet black with a chocolate head and features incredible depth of malt flavours and aromas of espresso, cocoa and dark fruits. The time in the barrel has enhanced the smooth, rich flavours and oak aroma, while providing hints of cherries and chocolate."
"We have had really positive feedback from our drinkers and the trade, with 50% of the packs we made available through our online store selling in the first 12 hours," says Vaughn. "Many of those seeking it out are loyal fans but through Untappd and social we can see that people are really stoked with the quality of the beer.
"It's the first time we've got into imperial stout. There are been some Stone beers that were stronger and we've done little pilot batches here and there, but we've never done a big release in that 10% realm. To do a big 10 year anniversary beer, it's exciting for us. It's going to be drinking wonderfully now and will stand the test of time. Put it in the cellar."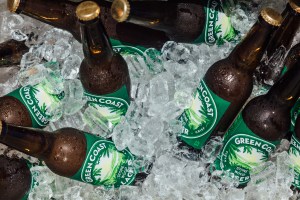 Stone & Wood has also made changes to the packaging of its lager – Green Coast. Inspired by the green hills that roll down to meet the ocean, the packaging is intended to reflect the natural setting of the Northern Rivers brewery's backyard region. The recipe for Green Coast, which is Stone & wood's second biggest selling beer, has not been changed.
The brewery is also holding its inaugural Backyard Invitational Festival on 24 November to celebrate its birthday. Stone & Wood is bringing together other indie breweries and those who have become friends and family over the years for an afternoon of good beer, talks and panels, food, music and drinks, while raising funds through their inGrained Foundation.
"We'll see how it goes, but I think the intention is to do the festival each year, inviting different breweries to come and hang out with us. This year it's the breweries and suppliers who have been along the journey with us, long term friends of ours. Having the owners and founding members of all these breweries there is just an amazing opportunities to speak with them and hear their stories. It's a pretty epic deal, if I do say so myself."
"Compared to breweries in other parts of the world that have been around for hundreds of years, we're 10 years young!" said co-owner Brad Rogers.