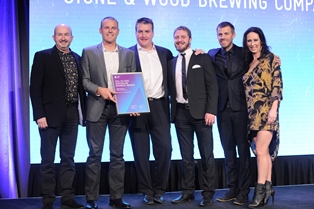 L-R: Stone & Wood's Jamie Cook, Ross Jurisich, Brad Rogers, Patrick Keeble, Steve Blick with Naomi Whitfield (Owner of iKOU – 2013 Telstra NSW Regional Business Award Winner)
In the space of a weekStone & Wood has officially launched its new brewery, released a short run beer and won the Telstra NSW Regional Business Award.
"Yep – it sure has been a week to remember! But I also think it's been a massive 12-18 months as we've negotiated the pain of not being able to supply enough beer to those that enjoy drinking our Stone & Wood beers," said co-founder Brad Rogers.
Judges of the Telstra NSW Business Awards praised the strong management, sound financials, excellent long term planning and sustainability of the business, saying it combined the best from the corporate and small and medium enterprise worlds. Additionally, they said the founders had a very strong commitment to the local community.
"The award was very rewarding for the whole team for many reasons. As we all know it's not just the efforts of one or two that result in winning these awards, it's the efforts of our entire team, across the country. From the guys in the brewery to the guys on the road to the guys in the office," said Rogers.
"Everyone across the business feels a real sense of pride, knowing that as one team we have been recognised by industry peers. Winning this regional award for Stone & Wood is a great catalyst for all of us to celebrate the successes of the last 12 months."
Stone & Wood co-founders Brad Rogers, Ross Jurisich and Jamie Cook
Stone & Wood Murwillumbah Brewery
Late last week Stone & Wood officially launched its major new brewing facility at Murwillumbah in northern NSW. More than 18 months in the making, the Murwillumbah brewery is now busily pumping out Stone & Wood's hugely popular Pacific Ale, for which the company has been unable to keep up with demand for some time now.
Co-founders Brad Rogers, Ross Jurisich and Jamie Cook said they are confident the beer being produced at Murwillumbah is of the same high standard of that brewed 40km away at their Byron Bay base. Jurisich said the first priority is to satisfy the demand of existing customers whose support has been unwavering, despite them not being able to get enough beer.
"We want to reward the loyalty of those guys by giving them as much beer as they want," he said. "Once they're comfortable that they've got enough, then we'll start looking outside of that."
Jurisich said Stone & Wood will also prioritise customers in its local market.
"We're a local brewery and we want to make sure that we maintain that local connection with our backyard. Our backyard really is from Northern Rivers through to South East Queensland," he said.
Production of Stone & Wood's core brews will eventually cease at Byron Bay, which will handle the company's small batch offerings.
Cloud Catcher
Stone & Wood has also launched a new beer, Cloud Catcher, which is a short run beer that celebrates the brewer's journey to opening its new Murwillumbah facility. The company's staff had input into the beer, named in honour of local landmark Mount Warning, which is visible from the new brewery. The mountain's indigenous name is 'Wollumbin', meaning Cloud Catcher.
Coming in at 5.5% ABV and 40 IBU, Cloud Catcher is a full flavoured ale hopped with all Australian Galaxy and Ella hops, balanced with a generous crystal malt backbone.