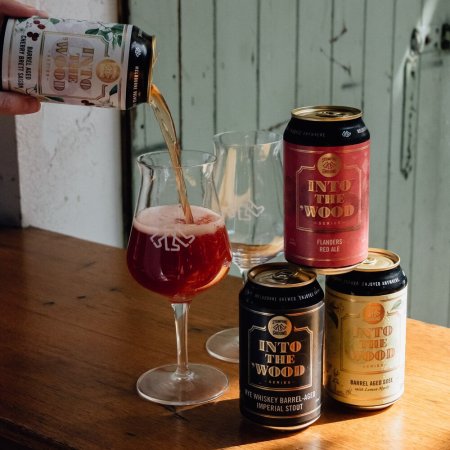 With Stomping Ground's final 2020 release of their Into the 'Wood barrel-aged and wild beer series now available we take a look back at the first three and fill you in on the latest – the Barrel-Aged Cherry Brett Saison.
The Into the 'Wood series kicked off in 2019 with six bottled releases that ranged from a Pinot Noir Brett Saison to a Bourbon Barrel-Aged Russian Imperial Stout.
The 2020 releases, that were all released in cans, are currently available in strictly limited mixed packs on Stomping Ground's webshop.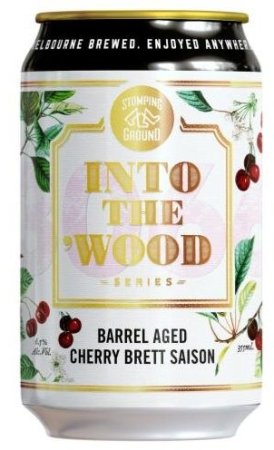 BARREL-AGED CHERRY BRETT SAISON (6.5%)
Coloured like the red-brown brick sawtooth roof warehouses that dot Collingwood it's reminiscent of Lambrusco in the glass with a gentle fizz further enhancing the similarities. With French Saison yeast used in the primary fermentation and Brettanomyces for the secondary, distinct wet leather and spicy, earthy aromas mingle with delicate notes of sour citrus and coriander. Aged with Victorian cherries, the fruit presents itself in flavour with a medium tartness matched with a well attenuated dryness and soft marzipan sweetness. The first saison of the 2020 series and also its most complex release.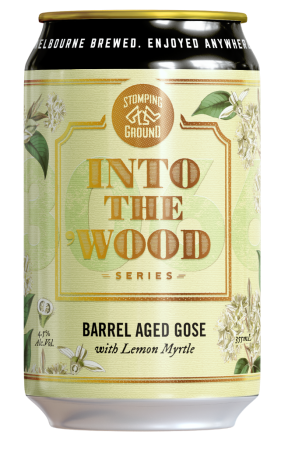 *BARREL AGED GOSE WITH LEMON MYRTLE (4.5%)
Lime peel and lemon juice greet you on the nose, with a good and balanced yeast presence. There is a very subtle note of pine nut, soft sherbet and a skosh of eucalyptus gum accompanying the lemon myrtle, with a whiff of nashi pear right on the back of the nose. The barrel doesn't aggressively play into the beer instead lending itself to a nuanced layered nose and a structured palate, allowing the complex herbal and fruit notes to dance. The perfect word to describe this beer would be 'intricate'. The saltiness hides in the exceptionally beautiful nose, but pushes forward in the palate. This has a soft as silk mouthfeel with low sourness, but a moreish dry finish as if drinking an exceptional dry Chardonnay.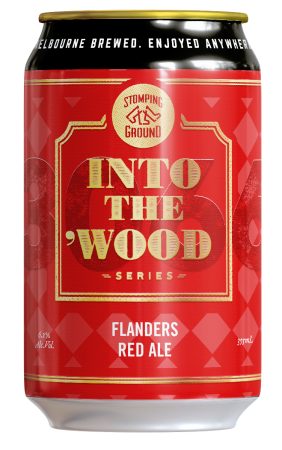 FLANDERS RED ALE (6.2%)
Aged in Hanging Rock shiraz and pinot noir barrels, this beer is not going for your jowls, it's going for your heart. With considerable haze, it's a deep cedar where lifted berries and dark stone fruit notes sit atop a moderately acetic twang and raisin, banana and oak. It has a soft, affectionate acid profile that plays nicely with generous malts and light fruity esters. It's even tempered, where the potential sharp edges are blunted by the sheer enthusiasm of all the components. This release featured in our Autumn 2021 magazine's tasting review section on page 73.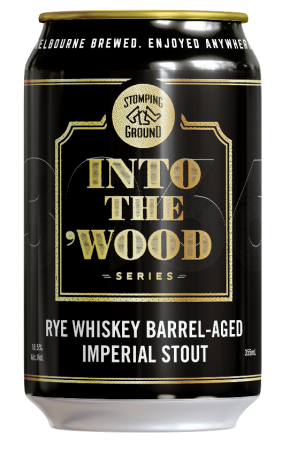 +RYE WHISKEY BARREL-AGED IMPERIAL STOUT (10.5%)
A lovely complex and rewarding beer. It takes you on a journey from start to finish with many components but manages to have them all riffing away without anyone of them hogging the limelight. It is very dark brown, near black with mahogany highlights and a tan foam head that dissipates to a thin persistent cap. The aromas are bountiful, with dark chocolate, molasses, banana, vanillins and light oak all making appearances and swirling around a centre of espresso and raisin. Roasty espresso continues on the palate with some ashy-cigar box notes and there is a voluptuous and decadent mouthfeel that is surprisingly fluffy. Bitterness is well integrated with the malt and alcohol.

*This made the list of our top panel picks in our Autumn 2021 magazine's tasting review section. +And this made the top panel picks list in our Summer 2020/21 edition.
For more reviews like these subscribe to Beer & Brewer magazine