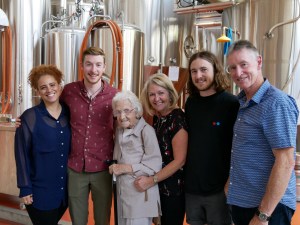 Stomping Ground Brewing Co. has brewed Celie Centenarian Ale to celebrate its 100th different beer since opening less than two years ago.
Andy Butt donated the journal of his maternal great grandfather, who was the head brewer of a large brewery in Collingwood 100 years ago. The journal contained notes and recipes and inspired the recipe for this celebration brew. The beer was brewed in honour of 101 year-old Celie Curtis from Mont Albert, who got her hands into the brewing ingredients during her brewery tour.
"We thought it would be fun to see if we could try and recreate the recipe, just as they would have done 100 years ago," says Stomping Ground head brewer Ashur Hall. "But we thought it would be even more fun to see if we could find a 100 year-old to share the experience with us. Celie was more than would possible have hoped for though. She's a bit of a live wire really. Lots of energy. And she's really independent and loves going to bingo every week."
The brewery will now offer any centenarians free beer – and a guaranteed seat at the bar – for life, while all seniors can now get one free pot of beer with any main meal.
"Breweries traditionally were central to their communities and this collaboration with Celie and her family is a fun way to celebrate all seniors in our community," comments Stomping Ground's co-founder Steve Jeffares.