The Broome-based craft brewer with a social conscience Spinifex Brewing has announced it's hoping to raise $2 million via an equity crowd fund to help it become "a globally recognised Australian brand".
Currently in the expression of interest phase on the Equitise platform, Spinifex said it will use the capital to finance opening a new ale house at North Beach (pictured) and its own brewing facility in the Peel region.
The two-year old brewing company, that has been contract brewing its range of native botanical infused beers, is set to become an anchor tenant within the WA State Government's new Food Innovations Precinct in the Peel region where it will house a 24-hectolitre brewery. Spinifex said it would enable a capacity of 2.4 million litres per year and represent "a milestone shift" in its production.
The construction of the proposed Spinifex Ale House at North Beach will serve as their flagship venue and complement additional tap venues at Wildflower Broome (set to open later this month), Exchange Hotel in Pinjarra and Indigo Blues in Denham (both due to open in October) and at the Newtown House of Brews in Sydney (set to open mid to late 2022) alongside Moo Brew, Urban Alley, Murray's and Catchment.
On its Equitise page, Spinifex said: "Australian craft beers have had a limited presence to date on the broader export market. We aim to utilise our unique native botanical ingredients to champion Indigenous flavours on the world stage. Spinifex aims to replicate the extraordinary success of Fosters and truly create a globally recognised Australian brand by taking the 'Taste of Australia' to the world. We currently export to markets in Northern Europe and South America, with discussions to increase distribution globally".
With an expanding on and off-premise presence, including being ranged in Vintage Cellars, BWS and Dan Murphy's stores, Spinifex said it's averaging monthly growth of 30 per cent and their forecast domestic revenue for FY2022 is $3.2 million, growing to $6.7 million in FY2023.
Spinifex's CEO is Adam Barnard, an Australian Army veteran and former managing director of Adams Coachlines, ex-West Coast Eagles player Karl Langdon is a brand ambassador and board advisor while John Gibbs is the head brewer and a founding partner.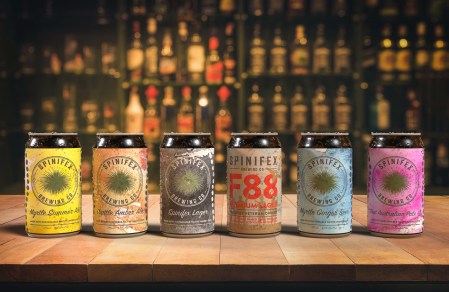 As well as championing native ingredients sourced sustainably from Indigenous producers, Spinifex is a certified Veteran Owned Business and directs 50 per cent of profits from the sale of its F88 Lager to support programs for veteran mental health, wellbeing and suicide prevention. The company said it has entered negotiations to supply its products to the Prince Harry-founded Invictus Games in 2023 in Dusseldorf.
"The future outlook for Spinifex is highly promising due to our strikingly unique story around our inclusion of Aboriginal producers within our supply chain, our support of Australian Veterans and our ability to produce award-winning beers," Spinifex said. "Spinifex is built around its usage of a range of native Australian ingredients and botanicals in the unique flavours of our beers. It's our goal to take these ingredients to the world stage and give them the international recognition they deserve, all through key Indigenous supply chains."
The announcement of Spinifex's crowd fund continues the trend amid the Australian craft brewing industry of businesses seeking public funds to drive growth. In just the last few months the likes of CoConspirators Brewing, O'Brien Beer, Beer Cartel and Batch Brewing have all conducted successful equity raises.
Designed by Carrier and Postmus Architects, and to utilise repurposed shipping containers, Spinifex hope their proposed 249 West Coast Drive, North Beach ale house will become an iconic landmark building and complement other local amenities.
"This is an incredible opportunity to design and construct a small bar on one of the last remaining undeveloped commercially zoned beach side locations on the Sunset Coast," CEO Adam Barnard said.
"Spinifex is determined to create a family oriented, premium space for beach goers and local residents in an area that is completely underserviced by way of premium beachside dining options between Trigg and Hillary's."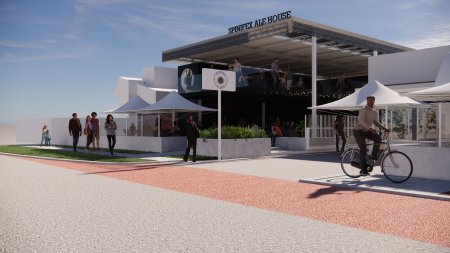 Look out for the Spring 2021 edition of Beer & Brewer magazine, available next month, where we taste and review six Spinifex beers: the Ginger Beer; the Wattle Amber Ale; the Spinifex Ale; the Honey Myrtle Ale; the Myrtle Summer Ale; and the WA Pale Ale.