As part of their strategy to become carbon neutral by 2025, South Australian activist beverage brand Sparkke is working with homegrown carbon tech company trace to measure and offset their carbon emissions in the race to net zero.
The result? A cold can of carbon neutral beer.
Sparkke's Carbon Zero Hero IPA (6.5%) – that's out now and was brewed in collaboration with Foghorn Brewery's Shawn Sherlock – achieved its carbon neutral status thanks to sustainable practices like using local suppliers and repurposing waste. For example, malt was sourced from Yorke Premium Malt on the Yorke Peninsula, hop flowers from Mount Pleasant's Hills Hops and yeast from Atomic Yeast in Adelaide. The only ingredient sourced outside of SA were the Cascade hop pellets Sparkke brought in from Victoria and Tasmania via Hop Products Australia, while the beer's spent grain was sent to local farmers for use as feed. But at this early stage in Sparkke's pursuit of carbon neutrality, carbon offsetting via the assistance of trace was still necessary.
"Small companies such as ours have to begin the genuinely challenging task of doing our part to improve our climate future. It's a big goal, and we can't get there without public support," Sparkke's co-founder Kari Allen said.
"By 2025, we fully commit to understanding and managing our own carbon footprint. To get there we have to benchmark our carbon emissions and develop and implement carbon reduction and offset strategies. This type of initiative is usually reserved for global industry players with very deep pockets and extensive resources. We believe that by starting on this journey, and transparently sharing our experience it could help other small producers start a similar process.
"This carbon conscious brewing project is already helping us understand the hotspots within our processes that produce the most carbon and that in turn helps us plan production of future brews and spirits."
Sparkke business analyst Ryan White said trace understand the pain point for small businesses trying to go carbon neutral but can't afford large consultancies to start their journey.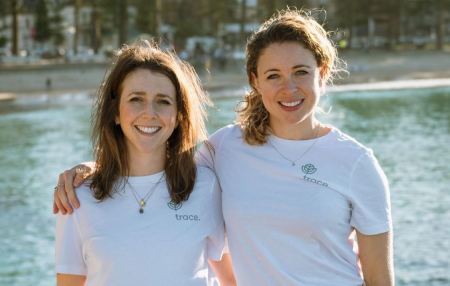 Catherine Long (pictured above right, with fellow trace co-founder Joanna Auburn), said that pathway starts with understanding how much carbon you are creating. For example, one major contributor to the brewing industry's carbon footprint is freight – both in deliveries and retailers – then looking to reduce it, and then lastly, offsetting.
"Some see carbon offsetting as a 'get out of jail free card', but we believe the opposite – offsets act like a tax to motivate businesses to reduce their emissions," Catherine said. "If at every stage we ask; how can we work together or work on this to never need it again, we're working towards a bigger vision and a much better outcome for the planet."
For every tonne of CO2 a company offsets trace purchases a carbon credit from a verified, high impact project delivering carbon reduction mechanisms that align with the goals of the Paris Climate Agreement and the UN's Sustainable Development Goals.
In the case of the Carbon Zero Hero IPA, Sparkke offset their manufacturing, freight, packaging, and delivery. Now, for every four-pack consumed, people will offset the equivalent of 80 party balloons worth of CO2 from the atmosphere.
The Carbon Zero Hero is the first in a series of carbon neutral beers planned for release, and Sparkke said it will soon launch a "carbon scorecard" it has developed in order to track and make public its efforts.
"Sparkke is in the early stages of developing our own scorecard to measure the sustainability of a product," Sparkke business analyst Ryan White said. "This will help us address the long term goals as well as the quick fixes we can be making. We are the first to admit that there is a lot for us to learn and so the end product is ever changing. However, we have been fortunate to be able to work with trace to help us with the initial quick fixes."