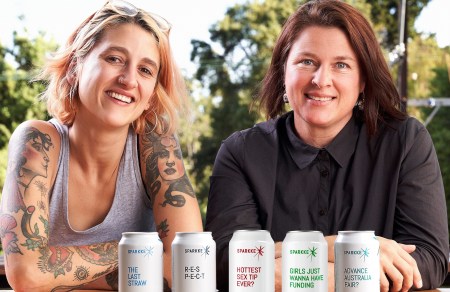 The Sparkke Change Beverage Company has updated and relaunched its packaging to highlight five new messages of social change.
The five new cans will contain the brewery's Apple Cider, Ginger Beer, Hard Lemonade, Pale Ale and Pilsner, and will champion messages about gender equality, sexual consent, racism, climate change, and social equity and inclusion.
Apple Cider's can will feature the slogan 'Hottest Sex Tip Ever? Ask, Baby, Ask!', while the Ginger Beer will champion asylym seekers with 'Advance Australia Fair? Time To Manus Up'.
The Hard Lemonade highlights Australia's gender equality issues: 'Girls Just Wanna Have Funding. We've Got A Daversity Issue.'
Sparkke's newest beverage, the Pale Ale, is "juicy, balanced and hop-forward". The can supports the call for a single-use plastic ban: 'The Last Straw – Just Say No'.
Finally, the Pilsner has "one simple objective": 'R-E-S-P-E-C-T. All We're Asking…'.
"We put social messages on the cans to spark important conversations where they need to happen – with friends, with family, with lovers; at parties, at social events, at political functions, at festivals, or right at home," says Kari Allen, co-founder of Sparkke. "Our new cans with new messaging reflects our current social climate.
"At heart, we're social activists demanding more for Australians from the country's annual $15 billion dollar booze industry. We're a genuinely progressive social enterprise raising awareness and funds for important social issues. Change is in the air, and it's delicious."