After two years of searching, Philter Brewing has found a home in Marrickville for its brewery.
The brewery will be located in an abandoned yoghurt factory on Sydenham Road in the brewery's "spiritual home" of Marrickville, NSW. It site is currently being prepared for brewing equipment to arrive in January 2020, with the team working on plumbing, electricity and flooring.
"We've wanted to be Marrickville which has always been our spiritual home," Stefan Constantoulas, sales and marketing director of Philter, told Beer & Brewer. "We've been looking for about two years for the right site. As our business has grown, the need for a bigger site has gotten greater as well. The site came up and we thought 'that's perfect'. The fact that it was food-approved in the past as well also made it slightly easier for us.
"We wanted to be in a high visibility area. We didn't want to tucked away at the back of an industrial estate. We wanted to make sure we were on a main road so it would be easy to be found on the brewery tours."
Philter expects the brewery itself to be operational by the end of January 2020, with a 25hL brewhouse currently being built and expected to arrived early next year. Once it's installed, the site also has the potential to increase capacity again, which Constantoulas believes they will do in 2021.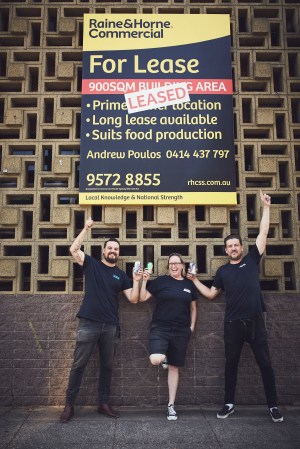 "By adding more tanks, etc. the maximum capacity should be 3 million litres a year or thereabouts," says Constantoulas. "It was important for the selection of the site to know that we could grow into it."
The hospitality side of things is still dependent on approval from the local councils, with Constantoulas explaining that it's more like to be open in March or April 2020. The taproom itself will feature 12 taps and have a decor in keeping with the 'Philter approach'.
"Everything we do with Philter we try to do slightly differently, as you can tell from our packaging," continues Constantoulas. "With our taproom we want to make it uniquely Philter, so we've got some design ideas up our sleeves to give it a little more of a point of difference.
"If you're expecting to come into a more industrial traditional brewery space, that's not what we're after. We won't be going as far as putting a pool in like the Moon Dog guys, but somewhere in between!"
What is most exciting for Philter, however, is that after years of contract brewing, they will now have the freedom to create a wider range of beers and to experiment with recipes to a far greater extent.
"Sam [Fuss, Philter head brewer] is very excited to get in and really play with some newer fancy things," says Constantoulas. "At the moment, we don't have the ability to just jump in and  decide to do a new brew.
"We'll make sure there are plenty of seasonals on there. That's the really exciting thing for us. The fact that Sam can control our own capacity, you can't really buy that."
"Having our own pots and pans will give us more control over our core range recipes," adds Fuss. "We'll have the flexibility to work on some awesome specialities and seasonals. Working on this project from the foundations up is fantastic and I can't wait to crank her up."