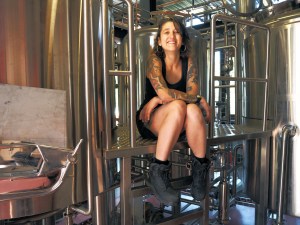 Recently opened brewpub Sparkke at the Whitmore has brewed its first beer.
The Adelaide venue will unveil I Can't Believe It's Not Summer on Monday 17 June, which was brewed in the brewery's newly commissioned 800 litre, two-vessel brewhouse by Agi Gajic.
"I wanted to make the beer that you order when you don't know what beer to get: that flagship pale ale," says Gajic. "I was aiming for a west coast style, but subconsciously my love of the east coast has come through, so it's a 'somewhere-in-the-middle' coat style. Maybe it's a Rocky Mountain pale ale."
The beer was made using German Spelt malt, a malt that Gajic had not previously used. Only 16 kegs will filled and these will be tapped and made available at the venue itself, which opened in March 2019.
"There is a lot more movement now that people connect with us as a legitimate craft brewery because they have a chance to come and see who we are and taste our beers," says Gajic. "The craft brewing industry is small and I love it (but) there was some pushback as people struggled to understand that we have the dual purpose of being a social enterprise and a brewery.
"I think they now understand that we're not a gimmick: we're a craft brewery with a different business model and our social enterprise work is done through our products as well as across the entire company's operations. We've been blown away by the response – we've had enquiries from as far afield as China and New York, and a lot of interstate interest and attention."
Sparkke supports organisations working to improve the issues talked about on their cans; collaborates with local and independent makers; and is seriously committed to exceptional standards of food and brews – along with social, environmental and corporate responsibility.
From the brewery she designed, Gajic has connected with female-led Tanunda dairy farm Jersey Fresh to provide stock feed in the form of spent grain, while hot liquor is recycled in the brewing process.
"When cleaning kegs we use the final hot liquor rinse on one keg as the first rinse on the next, so the water is used twice before it drains," explains Gajic. "We also have a CIP system, with a vessel that allows me to run cleaning cycles through a few times."