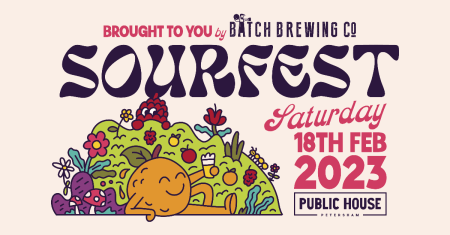 Sourfest, Batch Brewing's annual celebration of all things wild, tart and funky, is returning on February 18 alongside a sour beer masterclass prior to the main event.
Held once again in the Public House Petersham carpark, the festival will see Batch pour eight new unique sours brewed specially for the event while an outdoor guest bar will feature a curated range of their favourite sours from across Australia and abroad. There'll also be a special beer from their fellow sour lovers and Local Drinks Collective partners, Wayward Brewing Company, brewed exclusively for Sourfest.
For those seeking something other than sours, Batch will have them covered with a few palate cleansing lagers and pale ales available on the taps.
As usual, the full tap list remains a mystery until punters show up, but Batch said there'll be a pastry sour, a velvety nitro sour and a dark sour inspired by an Aussie favourite choccy bar amongst the line up.
For those who can't wait for the festivities, Batch are hosting a special Sourfest Masterclass on the Thursday prior to the main event. Ticket holders will be able to hear straight from the brewers about their inspirations and processes behind the exclusive Sourfest brews, and get to taste four of the Sourfest beers before anybody else.