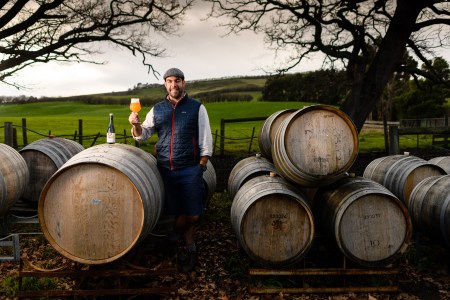 In our newly-released Autumn issue, Luke Robertson discovered how sour beers have gone from a niche product through to an essential part of a brewery's portfolio and a playground for creativity and innovation.
In 2019 it seems like every brewery is including at least one 'sour' beer in its line up. However, five or six years ago they were barely seen in Australia. With their sudden popularity, we decided to ask some brewers why they make the styles and how they create them.
There are a number of methods used to create sour beers, and there are a number of beers considered to be sour beer, versus traditional ales and lagers. From Berliner weisse and gose, which take less than a couple of weeks to make, to barrelaged and wild-fermented wild ales and lambic-style beers that may take years.
Currumbin Valley Brewing in Queensland opened its doors late last year. While it launched with a more traditional offering – a pale ale – its second beer was a Mango Sour with Lemon Myrtle. It uses lactobacillus culture to create sour flavours before the beer is boiled to kill off the bacteria while keeping its flavour. It's what's known as a 'kettle sour'.
Co-founder Pete Wheldon says the plan for the brewery over the coming years is to have three distinct groups of beer. The first group will be hoppy, but "clean" (unsoured) beers. The second will be kettle sours, and the final group will be barrel-aged and soured over time. The move from brewing nomadically at other people's breweries to a farm-based brewery has sparked the team to explore more farmhouse traditions using fruit and herbs available at the farm. Wheldon believes sour styles are well suited to the climate in his brewery's part of the world.
"The subtropical climate really lends itself to those beers," he says. "I know in Brisbane our beers are selling really well. The Gold Coast has a way to go but it feels like it's picking up."
Wheldon thinks that the styles are also here to stay. While it has been called a gimmick or a fad in some beer circles, he firmly believes they have a place in the wider drinking palate.
"I see them as a palate cleanser, or a resetter. Like having a sorbet in between courses during a meal. I don't see them as a flippant trend – they've made their mark and they'll continue to do so."
Almost 1,000 km south of Currumbin Valley is Wollongong brewery Five Barrels. At the end of last year, it released four kettle sours, and four barrel-aged sours. Philip O'Shea, owner and brewer, says the styles have always been on the cards for Five Barrels. The barrel-aged releases have been in the works for two years, and O'Shea says he's lucky to have a brewery in an area where drinkers are open to unusual and diverse offerings.
"We're pretty lucky in Wollongong with lots of great food, and really nice venues for people to go out," he says. "Venues were always on board with the concept and punters were pretty keen on them as well.
"We've got a pretty adventurous bunch down here, and we've seen a lot of sours being brewed in the States and people keep an eye on what's going on around the world, so when they pop up here people are pretty keen to give them a go as well."
The releases have been a success and he says he has already refilled the barrels for future releases.
Read the full article, including interviews with Van Dieman's Will Thatchell and the team at Hop Nation, in the Autumn issue of Beer & Brewer. To subscribe, click here.