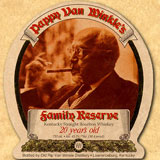 The American bourbon industry is aghast – and lovers of top-shelf Kentucky spirit are (almost) taking to the streets wearing sackcloth and ashes. The reason: someone has pinched the Pappy.
The Pappy in question is one of the most difficult to acquire bourbons in the world, called Pappy van Winkle's. It's made in relatively minute quantities, and is regarded as one of the rarest – and best – bourbons in the world.
Each year, the distillery releases about 7000 cases of the spirit. But this year, that number will be down by roughly 65, as an enterprising thief has robbed the bond store, removing individual bottles from the back end of pallets, to the tune of 222 bottles – 195 of which are the ultra-rare 20yo.
To put it into perspective, each annual batch of Pappy is released on what has become known as "Pappy Day" in Kentucky – and devotees of the tipple will camp out overnight to be close enough to the head of the line to score one of the $200 bottles. And if they miss out on Pappy Day, the chances of getting a bottle are very, very slim.
Some local retailers hold a raffle each year. In 2013, the Party Mart Liquor Store in Louisville had 600 people turn up to try to win one of the 30 bottles that the store had been allocated. Elsewhere, stores will let you put your name on a waiting list to buy a bottle. At the Southern Spirits bottle shop in South Carolina, the Pappy waiting list is 10 years long.
Police have a few leads on who might be behind the heist, but for now, 222 whiskey lovers will have to go without their Pappy for the year. We'd suggest that if you know something, call Crimestoppers – but let's be honest, if the bourbon's really that good, and you know who's got it, give us a call first…