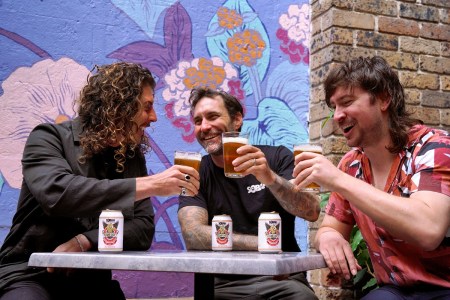 Non-alcoholic craft beer pioneers Sobah and local electronic music group Peking Duk have released the Fake Magic Lager to mark the launch of bank ING's Good Finds Market – a dedicated online marketplace that supports Australian social enterprises.
Proceeds from the non-alcoholic lager, that features an addition of lion's mane mushrooms and will be reviewed in our upcoming Summer magazine, will aide Sobah in their support of First Nations' culture.
"We've been riding the non-alcohol wave for a while now," Peking Duk's Reuben Styles said. "Especially when we're on tour and want to have a few pre-show drinks, without the headache."
Fellow Duk Adam Hyde added: "It's even better that the sales from our beer will go to Sobah's truly epic initiatives giving back to First Nations communities. We can't wait for you all to try it."
Sobah's founder Clinton Schultz said: "This awesome project will help us do more good and give back to grassroots organisations. Every single beer we sell, helps us on our mission to champion Aboriginal and Torres Strait Islander culture and reduce the stigma around socialising sober.
"Imagine the impact we could have if even half of Australians bought one thing from a social enterprise?"
Fake Magic Lager is one of four collaborative products to launch exclusively on INGgoodfinds.market across the month.