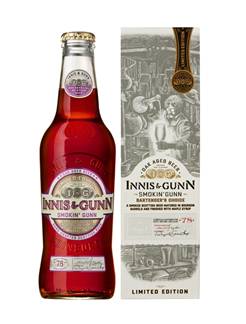 Scottish brewer Innis & Gunn has released a limited edition smoked beer, Smokin' Gunn.
The 7.4% brew is a collaboration with David Ashton-Hyde, head bartender at Heston Blumenthal's Michelin-starred pub, The Hinds Head in Bray.
Smokin' Gunn is made in the style of a German Bamberg Rauchbier using malts that are smoked over beechwood to give a faint charcoal character to the beer. After smoking, the beer is matured in ex-bourbon casks to give it a vanilla hit before being finished with maple syrup to add a layer of toasty sweetness.
Inspired by his love of bourbon and maple syrup, Hyde's recipe wowed the judges at the inaugural Innis & Gunn Bartender's Choice competition last year, where he triumphed over 300 bartenders from the UK, Sweden and Canada.
"I wanted to create a beer that would encompass both savoury and sweet elements. The soured mash and sweet and smoky tones from the maple and bourbon offset one another really well," Hyde said. "The charcoal and caramel hints of bourbon barrels married with the dry and fresh minty tones of the hops make for a powerful flavour experience."
Innis & Gunn's managing director, Dougal Sharp, recommends drinking the beer from a brandy balloon glass.
"David's idea had the creative flair we were looking for but the test for us was to balance the beer's robust flavours so that no single ingredient was allowed to dominate," he said.
Smokin' Gunn is now available in Australia through Beer and Cider Co