A cider from the family-owned Sidewood Estate winery in the Adelaide Hills has ranked as the world's best in its class while perennial beer award winners BentSpoke Brewing, Brick Lane Brewing and Lion have all snared multiple medals at the International Brewing & Cider Awards in England.
Founded in 2004 in Oakbank by owners and vignerons Owen and Cassandra Inglis, Sidewood Estate is better known for its award-winning wine varieties but they can now add their Strawberry Apple Cider to their hall of fame after it won the trophy for best International Flavoured Cider at the long-running awards. As well as taking gold for their flavoured cider, which is made with handpicked Uraidla strawberries and Lenswood apples, Sidewood also won a bronze medal in the perry category for their Pear Cider. It meant they were the only Australia-based cidermaker to feature in the European cider producer-dominated awards while New Zealand's Redwood Cider Co won gold for their Orchard Thieves Rosé cider. In impeccable timing, Drinkworks is this month launching that 4.0% Rosé cider into the Australian market in 6x 330ml packs.
Speaking with Beer & Brewer Owen said to win the trophy in the "home of cider" was particularly satisfying.
"It's terrific to wave the Australian flag and particularly in the UK where the UK and France would consider themselves the home of cider. To get there with a fully hand crafted Australian product is wonderful.
"It's not the first time either as we did it on their home turf with our Pear Cider back in 2017 (Best Dry Pear Cider at the World Cider Awards in London)."
Since beginning to make cider in 2014 Sidewood won Best South Australian Cider at the Royal Adelaide awards in the same year at their first attempt with their Apple Cider before winning Best Cider or Perry at the 2015 Perth Royal Show with their Pear.
Made by Henry Borchardt, who is second-in-charge to Sidewood's head winemaker Darryl Catlin, the 8.0% ABV Strawberry Apple Cider is made in a wine style and unlike a lot of Australian ciders that are fermented dry they keep a close eye on it and stop the ferment with temperature control.
"This is our first attempt at making a strawberry apple cider, primarily for our cellar door and restaurant in Hahndorf," Owen said. "It was originally only in keg but we had so many requests from our visitors we started allowing refillable one litre squealer and two litre growler purchases.
"Based on the success of this, we bottled small amounts at our bottling line in Nairne. We made a Pineapple Apple, Cherry Pear and Strawberry Apple and cut no corners in our production techniques. There's no concentrates or cheap flavourings, just pure, perfect Adelaide Hills fruit. Not mushy leftovers or bird pecked fruit. The whole winery smelled of juicy strawberries the day we crushed this first batch and it's fair to say, the result was exceptional.
"The Adelaide Hills produce not only some of the best wine grapes on the planet but our cool climate and wonderful, often generational fruit growers, allowed our cider making team headed by Henry the perfect building blocks to make this amazing cider. We won the Arkaba Hotel Beer and Cider Awards' Best Cider of Show in June with the Sidewood Strawberry Apple. But this award puts us on more craft cider lovers' radars globally."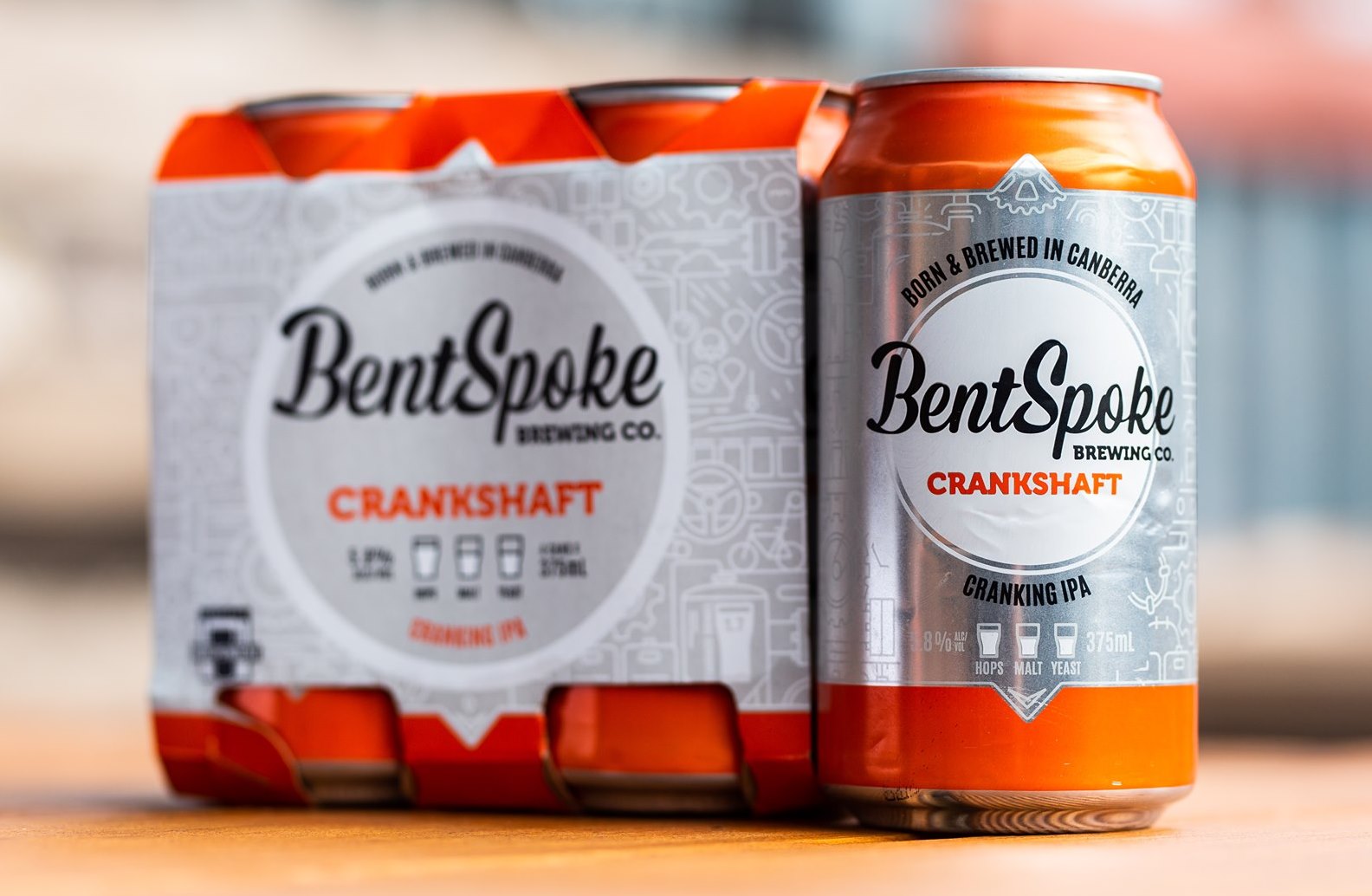 Crankshaft cranks up, again
In the beer categories, Brick Lane and Lion came away with two medals apiece while BentSpoke were the pick of the Australian contingent, winning a gold and two silvers for three of their flagship beers.
Their Crankshaft IPA continued on its giant killing ways and picked up gold in the Smallpack Ale 5.5% – 6.9% Class to go along with the silver medal it won at the same awards in 2017 and its top placing in the 2020 GABS Hottest 100. After winning gold and the Champion International Smallpack Ale Trophy the last time the awards were held in 2019, their Barley Griffin Pale Ale took silver this time around in the Smallpack Ale 2.9% – 4.4% Class while their Red Nut Red IPA was also awarded silver in the Strong Beer Specialty 7.0% – 9.9% Class.
BentSpoke head brewer and co-founder Richard Watkins said: "We are really proud to see our city up there on the world stage and our beers recognised by other professional brewers. With the craft beer and cider industry growing and changing every year, it's no easy feat to maintain podium finishes, so we're really humbled and proud of that. These awards are really good recognition for our team and our commitment to beer quality."
Meanwhile, with new zero alcohol categories introduced to the awards for the first time to reflect key trends that have emerged in the beer markets since the last event, Lion's relatively new James Squire Zero won bronze in the Non and Low Alcohol Up to 0.5% Class while their Hahn Ultra Crisp received silver in the Specialty Beer Zero Gluten Class.
Brick Lane's Sidewinder Hazy Pale Ale won silver in the Non and Low Alcohol 0.6% – 1.1% Class, their Baba Yaga Russian Imperial Stout took silver in the Specialty Beer 10% and above Class while their Someday Sour Blood Orange was
awarded bronze in Speciality Fruit Beer up to 6.9% Class.
Should travel restrictions permit, gold, silver and bronze winners can collect their medals and trophies at an awards ceremony to be held in the UK on April 6.
Brewers and cider-makers from 24 countries received accolades at the event where 126 medals and 12 trophies were awarded.
Nine beer trophy winners were announced which included winners from Japan and Malta. Tokyo-based Spring Valley Brewery's Juicy Hop won Speciality Beer, while Ise Kadoya Beer, also from Japan, won the Strong Beer award for its Nou ga Trokeru Ultra Heaven 3xIPA.
Malta-based Simonds Farsons Cisk won the Non and Low Alcohol category for its Cisk 0.0, whilst other trophy winners included Yorkshire's Elvington Brewery (Keg Lager) and Jersey's Liberation Brewing Company (Cask Conditioned Ale).
In the cider awards, Sheppy's Vintage Cloudy Cider from Taunton-based Sheppy's Cider, won the International Classic Cider trophy, while overseas entries triumphed in the other two trophy categories with Sidewood Estate's success being complemented by Ramborn Cider from Luxembourg winning the International Innovative Cider award for its Ramborn Ice Perry.
Judging took place between November 16 and 18 at the National Brewery Centre in Burton-upon-Trent in the UK and comprised working professionals in the brewing and cider making industries from across the globe, led by chair of beer judging Rob McCaig and chair of cider judging Gabe Cook. For the last decade Australian Bill Taylor had been chair of judging but due to travel restrictions he wasn't able to attend this year's awards and in turn took the opportunity to stand aside in the interest of "change, and bringing in fresh ideas".
McCaig said: "For three days, we have seen and tasted some of the very best beers from around the world, crowning winners from all corners of the globe. Despite what has been probably the most challenging period in recent memory for the brewing industry, producers from around the world have presented some exceptional beers, ales and lagers. It has made the job of our judging panel extremely difficult because of the quality of the beers."
Cook said: "It has been a privilege to be able to chair the most important and prestigious competition of its kind for the cider industry. "We have welcomed international judges, including representatives from America, Ireland and Japan and the UK, to preside over world-class entries from across the world. Consumers' palates are becoming more discerning and, as we have seen other drinks categories expand and diversify, the same is true for cider. Cider-makers are expanding their offer and we have seen some remarkable examples these last three days."
A full list of all 2021 medal and trophy winners can be found on the International Brewing & Cider Awards' website.