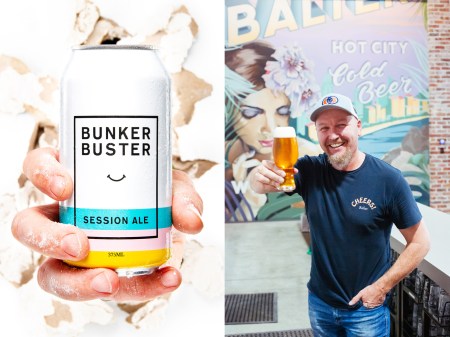 Sometimes you need to look back now and then to get a handle on where things are heading, and in the case of Balter's Bunker Buster, which may have snuck under a few radars due to its release mid-COVID, that's certainly the case.
The reaction of those lucky enough to get their hands on the now sold out session ale has been at times phenomenal, as it married the hype of a hazy and the intense hop aromas of a San Diego Pale with a dry brut IPA – all whilst dialling the ABV back to a sensible 4.5%. According to its maker, Balter head brewer Scott Hargrave, it was "this little ray of sunshine" amid uncertain times and one that could go on to represent the future of the session ale category.
In a wide-ranging interview with Hargrave for Beer & Brewer's Spring edition on the evolution of the session beer, we meandered a little off topic and discovered the Bunker Buster's origin story and why everyone at Balter will be chasing him around the block if he doesn't brew it again.
Head here to subscribe to our magazine. The Spring edition will be out in early September.
To give a little background, the Bunker Buster was released back in May after Balter decided, due to COVID's impact on venues, to save it from a destiny in the drain and canned what was only ever meant to appear in keg.
Where did the Bunker Buster begin?
I first started playing around with it on our pilot system about 12 months ago because there was such an aura around hazy IPAs. Initially I was thinking 'can I actually do one at less than 5%?'. Our hazy gets a lot of hysteria and it's at 6% but drinks like it's a lower ABV. It's quite dangerous like that. So I was asking myself 'can I actually tweak this enough so you can get that sort of character and flavour and satisfaction and mouthfeel and all those components? If you keep going down in alcohol, does it stop somewhere? Do you bottom out flavour-wise? Does it end up that you can only go so low that you eventually screw it up?'. I'm still finding that out I guess. I'd done about three versions of it on the pilot, making between 500 or 1000 litres at a time and people just kept going nuts for it. The first one came in at around 5% so I was a bit bummed that I had overshot it slightly. The next one was 4.7% which I thought was right on the money. But then I did another one, and it came in at 4.5% and it was probably the best one yet. I was like 'yeah alright, there's something in this. This might actually work'.
How did COVID-19 play it's part?
I was really keen to take it further so I approached Peter Wood, our head of sales, and said 'I'm kinda sick of just trying this out on the pilot. Can you sell 140 kegs of this if I make a big tank?'. And he was like 'yeah, I think so'. I was just busting to see what it would work like on one of our bigger tanks. And that's why it was destined for keg only. We felt we could shift that amount of kegs nationwide pretty easily and we weren't ready for a new can design or anything. And then friggin COVID happened and we were kind of screwed. I had 7500 litres of beer and nowhere to send it. So we had to get creative pretty quickly. We realised the only way we're going do something with this beer, short of tipping it down the drain, was turn around really quickly and get it into cans. I knew how good I felt it about it, but then the response from the public has just been ridiculous.
What's the story behind the name?
I was initially just thinking of giving it a stable name – like calling it a hybrid ale or something. But the problem with that was it just confused everybody. They were like 'what are you talking about?' What I meant by hybrid ale was that it's part this, part that. It's part San Diego Pale, but it was also part hazy quite clearly, and it was also part dry brut IPA. So in my mind it's a hazy pale ale. But everyone were still like 'what?' So we were working through a bunch of names that we could have for it – you know something session ale this or session ale that. When COVID happened, and it was going in to cans, I just went 'why not Bunker Buster?'. Everyone was bunkering down and this ale was like this little ray of sunshine outside of that. I didn't think Stirling (Howland, co-founder/brand director) would go for it, because we normally work through things like names collaboratively. But he was like 'no, that's great'.
Will we see it again?
Mate, I'll have most of the people at Balter chasing me around the block if we don't. But it's a little too early to say which way it will go. We've got so much on at the moment to be honest. Things have bounced back really hard for us, just with XPA and Captain Sensible, and we're at a point where we just can't make enough of those. They're the ones that are belting us at the moment and we've kind of just got to take care of business. As things get back to normal, and we start to get back on somewhat regular programming, we will most certainly be looking at what we're doing with Bunker Buster. We've got a bunch of stuff in the works already because that's how we do the seasonal releases and all that sort of stuff. But it's definitely not the last you're going to see of a beer like the Bunker Buster that's for sure.
Could the Bunker Buster's nature point to the future of the session beer category?
Absolutely it could. People are definitely wanting to maintain flavour in what they drink – even if it is at a lower ABV. And a hazy style is certainly very popular and I imagine will continue to be so. A beer's job sometimes is basically to do its job. And that job sometimes is to be a refreshing, flavourful bevvy for someone who still has to drive or jump on the lawnmower or pick the kids up or cook dinner or whatever. There should be something there for that person and it shouldn't have to be second best, or a rung lower than other beers just because someone's chosen an option with less alcohol.
Contact Beer & Brewer by clicking here to share your news and views.