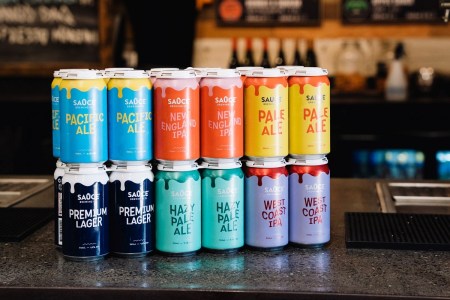 Sydney's Sauce Brewing have unveiled their first major brand refresh since launching in Marrickville over five years ago.
Alongside new can art, the Mike Clarke-founded brewery's core range has seen a new beer added and two taken away while their pet names, like Hop Sauce, Caribbean Fog and Bubble & Squeak, have been eschewed for the simple category descriptor they fall under, for example Pale Ale, Hazy Pale Ale and New England IPA.
The new addition to their forever range is the Pacific Ale while they've said goodbye to the award-winning Piss-Weak Session IPA and the Peach Sauce Berliner Weisse. Apart from the new Pacific Ale, the remaining core range members have undergone slight recipe alterations to "bring them more in line with today's market expectation of what, for example, a NEIPA should be or what a West Coast IPA should be".
Speaking with Beer & Brewer, Mike said the changes had come due to a number of motivators.
"Firstly, it was just time for a refresh. The old cans certainly looked good but you cant just keep doing the same things over and over again. You need to keep people excited about the brand.
"We went for simplifying the look a little but also moving away from the cool, funny, quirky names, that don't necessarily mean anything to the average punter, to the name of the beer. So someone standing in a bottleshop looking through a fridge's glass door knows straight away 'oh yep, I know what I'm looking at, that's what I want and that's what I'll buy'.
"You can't just sit on your laurels and expect growth to come because it won't, especially in a crowded market in a tough economy. And that's another big motivator for all of this, as you need to invest in being relevant."

While Mike said Piss-Weak and Peach Sauce were culled due to being "slow movers", the Pacific Ale was being positioned as their "price fighter" and that a 16-pack cube would retail at around $59.
And while a core range sour is now a thing of the past, he said they'd consistently have a packaged seasonal sour available. The first of those is the newly released mixed fermentation Mandarin Wild which drops as a duo of limiteds alongside the Dark Choc Porter right on time for Easter.
Meanwhile, Mike said Sauce was currently conducting research and development into non-beer adult beverages and that they planned to launch a parallel brand in the second half of this year.
"We're putting some time into product development, and looking at what's trending overseas and what the next generation of drinkers are looking for."
If you want to help Sauce celebrate their brand refresh and get a taste of the new or tweaked beers, they're throwing a launch party at their Marrickville HQ tomorrow (March 17) with "free-flowing samples, prizes, tunes and legendary foodies Brisket & Brawn".