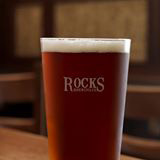 Rocks Brewing Co has announced its plan to revive a defunct hotel in the inner-Sydney suburb of Redfern. The Lord Raglan Hotel, which has say empty for a number of years, has been leased by Rocks Brewing Co, and will be relaunched by the company as a "haven of good beer".
"We are bringing quality good beer to Redfern," said Rocks Brewing CEO, Mark Fethers. "It's a changing suburb with a lot of both younger and older people, from all over, moving into the area. And these are the people that demand good beer, so we'll be supplying them with a venue where they can get it."
The Lord Raglan will follow in the footsteps of Rocks Brewing Co's original venue, Harts Pub in the Rocks, but more attuned to the local clientele. Significantly, Fethers says that the company is committed to giving The Lord Raglan "back to the community – that means no pokies".
The hotel will be fitted out and filled with the best beers from around Australia, and the world – and will also feature a bottle shop, stocking quality craft beer in bottles and growlers.