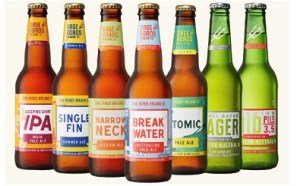 By Andy Young, editor TheShout
The Gage Roads Brewing Co (GRB) has said it is delivering on its five-year 'Returning to Craft' strategy despite a slight fall in its sales volumes for the first half of its financial year.
Total sales volume for the first-half of FY17 was 5.6m litres, down six per cent on the same period last year. This comes despite an increase of 24 per cent in sales through national chains and sales through the independent retail channels increasing by 244 per cent.
The overall sales drop is a result of "a temporary inventory adjustment from an unwinding of a high inventory balance held by retailers at the start of the financial year."
The company said that with this imbalance now normalised it expects this first-half fall in sales to be reversed in the second half of this financial year.
Last year the Western Australia brewer successfully completed a share buy-back from Woolworths and embarked on its strategy to refocus on craft brewing. With this move away from Woolworths along with its "Returning to Craft" strategy the brewer said that it expects to continue to see its growth in the independent retail and on-premise areas.
Also with the craft beer market expected to continue its strong growth of over 20 per cent per annum and with the brewer working on increasing its marketing visibility on the east coast Australia, there is a great deal of confidence about the future.
Managing Director John Hoedemaker said: "We are really pleased with the progress made, only six months into our five-year strategy. All the leading indicators are pointing in the right direction and are validating the 'Returning to Craft' strategy.
"Key distribution partnerships have been formed and initial sales into new channels are proving successful. With a re-capitalised business and a strong balance sheet, I feel the company's financial position and our growing brand strength are well placed to deliver growth earnings and value for our shareholders as 'Returning to Craft' continues to unfold over the next five years."
GRB's revenue for the first half were $13.9m, while earnings were $2.8m, although this included two one-off items totalling $966k.
The company also highlighted that it has secured national wholesale distribution through ALM and 100Proof.