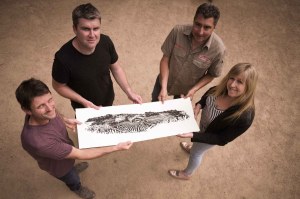 Red Hill Brewery is set to reveal its new look and is putting two of its session beers – previously only on tap – in their new canned packaging.
The brewery has altered its 15 year-old design to reflect the changes in the craft beer world. Working with Design by Bird, Red Hill commissioned local artist Darren Doye. The new design features bright colours and a strong focus on the local Mornington Peninsula landscape.
"When we first developed our brand look, nearly 15 years ago, it was quite different to what was around," say Karen and David Golding, founders of Red Hill Brewery. "Now the evolution of craft beer has opened people's minds to what is possible in packaging and styles. We wanted our new look to still look like us, draw on our history and be strongly representative of where we come from, but give us more freedom to be creative and work on both the bottles and our new addition to the stable – the can.
"We have commissioned many special labels from artists in the last five years; the Red Range and some from cartoonist Matt Golding, they have had great feedback. We worked with Design by Bird to commission local Red Hill artist Darren Doye to create a piece which truly showed the Brewery at Red Hill's heart with glimpses of the two bays either side."
Two of Red Hill's beers – Two Bays Australian Pacific Pale Ale and the East Coast Session IPA – have now been released in the newly designed cans for the first time.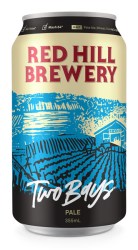 "For over three years, we have been producing both our Two Bays Australian Pacific Pale Ale and the East Coast Session IPA, busting with hops," add the Goldings. "Our customers have loved it and we have received great feedback on the styles. We have been weighing up the right way to take it from the tap to our customers and the can is where we have landed.
"The growing market has allowed smaller batches of canning lines to be produced for small business like our own. The moment we saw the idea proposed by design agency; Design by Bird, we felt it really spoke of our sense of place and our commitment to the authenticity of our process and the product."