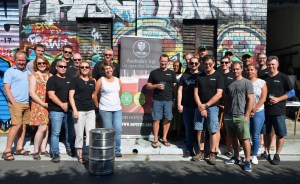 Hopsters has completed its first ever production run of Hopsters Pale Ale in cans, as it awaits council approval for its premises in Enmore.
Australia's first co-operative brewery recently its second Annual General Meeting, with a quarter of its 320 members attending. Since January 2018, the membership has grown by almost 170 members. Six new directors were voted in, bringing the number of board members back up to nine after the brewery said farewell to board members Scott O'Brien, Michael O'Shea, Ben Dunn, Ross Howden and Peter Knock.
The Member Investment Campaign has raised over $135,000, which is the majority half of the goal. The brewery signed a lease in August for a taproom and microbrewery on 198 Enmore Road.
The development application has been lodged with the Inner West Council, and Hopsters is planning for the construction to start as soon as possible. The brewery hopes to open to the public in early 2019.
The first canning run was done on 20 November 2018 and the cans will be sold through a Pozible pre-sales campaign.
"2019 is going to be a pivotal year for Hopsters as we transition from a home-brewing club with a dream to a commercial venture," says Maya Engelbrecht, Hopsters co-operative director. "So many people have a dream of owning a brewery, but don't have the capacity, know-how or transition capital to change their jobs. This gives them the chance to realise that dream. People can learn 'on the job' by volunteering for one of our committees.
"We will soon be ramping up the Hospitality and Casual Staff Committee ahead of the Tap Room opening."