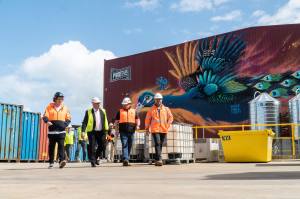 The first official beer has come off the line at Pirate Life's new Port Adelaide brewery, marking a new chapter in its history.
The $15 million brewery is located in the Dalgety woolstore and is expected to create more than 80 new local jobs, delivering economic benefits for the state.
In 2019, a hospitality venue will also open as part of the brewery.
Pirate Life's parent company AB InBev invested $13 million in the brewery, with a further $2 million coming form the South Australian Government.
"Pirate Life is excited to have the opportunity to contribute to the renaissance underway in Port Adelaide," comments Jack Cameron, co-founder and head of marketing and brand at Pirate Life. "We expect the brewery will become a must-see destination for visitors to South Australia and look forward to a time when Port Adelaide is a food and beverage hub of similar standing to the McLaren Vale and Barossa Valley.
"This project will add significantly to Pirate Life's brewing capacity. It will help us further our goal of putting world-class beers in the hands of as many people as possible."
The new brewery will house production of Pirate Life's core beers, while the original Hindmarsh brewery will focus on the development of new styles and the next generation of Pirate Life brewers.