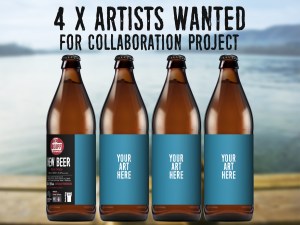 Local artists will design the bottles for four new limited release beers from East Gippsland brewery Red Bluff Brewers as part of a project called Beer4Art18.
The limited release beers will join Red Bluff's six-strong core range and include a winter kolsch, a dry stout, a vanilla cream ale and a red IPA. The Beer4Art project is being packaged in 500ml bottles and boxed up as a commemorative four-pack.
The kolsch is called Silvertop and was cold conditioned for over two months. Artist Dore Stockhausen was paired to the beer and drew inspiration from the Colquhoun forests among the Silvertop Mountain Ash tress of Lakes Entrance for her label design.
The dry stout is called 1924 First Oil Stout, inspired by Australia's first oil discovery, which happened in 1924 just 530m from the Red Bluff Brewery. Lakes Entrance artist Nephelle Watts has provided the artwork for 1924's label, creating unique designs with water and oils.
The third beer in the project is a vanilla cream ale called Snowy. This beer was the first time Red Bluff Brewers used additional ingredients in a beer beyond malts and hops. The vanilla pods were sourced from Papua New Guinea and were soaked in 80 proof vodka for 14 days before being added to the boil phase of the brew and also after fermentation in the dry hop phase. Drawing inspiration from the Snowy River its sandy beaches, artist Kye Jones has created her abstract piece that follows the river's course.
The last beer in the range is the Dusky Red Bluff IPA, a red IPA that points to the local landmark after which the brewery is named. Red Bluff is a local rock bottom surf break that can produce both left and right hand waves. Jesse Kidd, who hails from Lake Tyers Beach, was chosen to create the Dusky label. He uses black fineline pens to combine crosshatching and pointillism.
"We always knew we'd need a core range," says Damian Witham, co-brewer at Red Bluff, which was founded in November 2017. "It's what the local establishments have come to know and love, and we need to keep providing that. But being creative brewers, we also need to feed that part of our brewing drive, so we have come up with this project to not only share new beer recipes with locals, but to also share some of the spotlight with our fantastic artist community. We have world class artists living amongst us who have seen success here and abroad, and this is just another way that their work can get into the hands of more people. It's new and we want it to stay, with a new batch of beers and artists every year."
The project will be launched at the newly reopened Kalimna Hotel on Friday 27 July at an event that will run over the entire weekend. Tasting paddles of all four beers will be available, alongside an exhibition of the four artists involved.