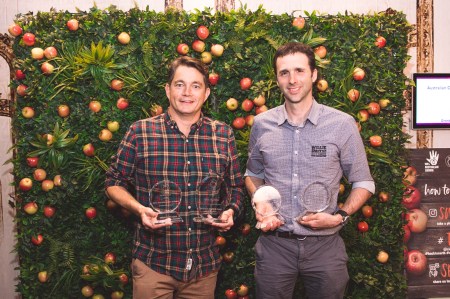 The 2019 Cider Awards have received 276 entries this year, breaking the record once again.
Judging will take place in Melbourne this week (w/c 21 October). The panel consists of seven full judges and four associates, including chair Sebastian Crowther MS of REAL Wines, Michael Henry of Henry of Harcourt, James Kendell of Small Acres Cyder, Loïc Le Calvez of Wine Truth, Briony Liebich of Lion Co, Jody Scott of New Zealand's Zeffer Cider and guest UK judge Tom Oliver.
Oliver from multi-award-winning UK cider company Oliver's Cider & Perry has landed in Australia to critique hundreds of ciders at Australia's largest cider show.
As well as being the tour manager for The Proclaimers, Oliver also makes ciders and perries in Ocle Pychard, Herefordshire, as well as collaborating with other cidermakers and brewers.
The entries feature some interesting but not unexpected trends noticed by Warwick Billings, chief steward of the Australian Cider Awards and vice president of industry body Cider Australia.
"The number of entries in standard cider and perry classes is stable overall but there is a shift towards the drier classes, reflecting the continuing evolution of consumer palates and preferences," comments Billings.

"Growth in entries is largely driven by the specialty classes with a 50 per cent jump in entries in the cider with fruit class and 20 per cent more experimental products. We have responded to this development by introducing a new Best Specialty Cider/Perry trophy.
"Each year we are seeing an improvement in the quality of entries, making the task of narrowing the field of stand-out products even more challenging. But our world-class team of judges is well qualified for the task."
The award winners will be announced on Friday 8 November at the industry's annual gala dinner at The Craft & Co in Collingwood, Victoria.
"The Australian cider industry is proud of what it has achieved in a relatively short timeframe in terms of diversifying the range of styles produced and making consistently high quality ciders," adds Sam Reid, president of Cider Australia.

"Over the past week the Australian cider community has enjoyed showing Tom around the cider producing regions of Victoria and Tasmania and learning a lot along the way.

"After judging, Tom will venture over to Western Australia to explore parts of the newly established WA Cider Trail."