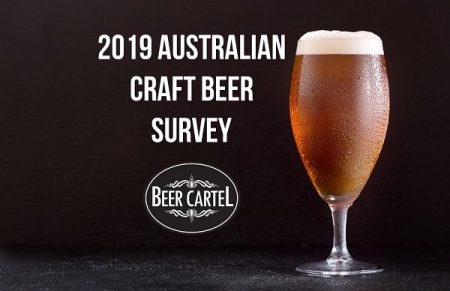 The 2019 Australian Craft Beer Survey by Beer Cartel has been released, revealing the growing strength of craft beers and cans.
This year's survey received widespread support across the industry. In total over 23,000 Australian craft beer drinkers took part, an increase of 5,000 from 18,000 in 2018.
For the second year in a row, Balter was chosen as Australia's best craft brewery – followed by BentSpoke and Stone & Wood.
However, in a reversal that reflects changing attitudes, preference for cans has overtaken bottles for the first time. Overall preference for cans grew 8 percentage points to 38%, while preference for bottles decreased to 27%.
Attitudes to craft beer continue to be positive, with 93% of respondents believing that the quality of craft beer in Australia is improving and 87% encouraging friends and family to try craft beer.
Independence
Awareness of the Independent Brewers Association (IBA) Seal of Independence has grown steadily from 33% in 2018 to 41% in 2019. Among those aware, 58% say that the seal has had a medium to large impact on their beer purchasing behaviour.
The term 'independent beer' was surveyed, with 78% of respondents describing it as 'made by an independent brewery'. In addition, 48% described it as 'crafted not manufactured', 44% described it as 'made by a small brewery', 43% saw it as 'Australian made/owned' and 42% thought it meant 'supports small business'.
Core support
While the industry is defined by its innovative recipes and limited releases, it is the core range beers that account for the majority of purchases. They are purchased more regularly and in greater quantities than new or limited release beers.
Indeed, it seems that craft beer drinkers are increasingly keen to see larger packaging options. The overall preference in terms of pack size was six-packs (68%) and cases of 24 (54%) compared to four-packs (38%) and cases of 16 (42%). 75% of respondents said they regularly purchased craft beer in four or six-packs, while 40% purchased singles or cases.
Thus, while most respondents (85%) were positive towards the "direction craft beer is heading and are excited by the opportunity to try different beers", with 66% enjoying the opportunity to follow the latest trends, 76% believe that support of a brewery's core range is important for its survival.
The average weekly spend on beer for respondents was $56, while the craft beer drinker profile was relatively unchanged, with a 3% increase in females drinkers (33%) and a 3% decrease in male drinkers (775).
The full results of the Australian Craft Beer Survey can be found here.