A crowdfunding campaign is underway to get Rainbow Beer, currently only available at The End bar in Brisbane, into wider distribution, with 50 per cent of the profits to go to Australian Marriage Equality.
The three owners of The End bar and founders of the Rainbow Beer brand – Nick Goding, Timothy Lovett and Ben Johnston – have set a target of $100,000 for their Pozible campaign.
Money raised from the campaign will be used to increase production of the beer, and once their target is reached, half of all profits from the beer will go directly to the organisation.
"LGBTQI Australians deserve the right to marry, just as everyone does – and it's time we speak up for our community and change how we do things," said Goding.
"We're campaigning for marriage equality the best way we know how – by putting our pro-love beer in bars and homes across Australia."
The Rainbow Beer is 4.5 per cent ABV and is based on a traditional German pilsner, but with a twist.
"For me, it's a crisp German pilsner," Goding explained to Beer & Brewer. "A very easy drinking, sessionable beer that's maybe a bit more interesting than a standard pilsner – say a Czech pilsner you might buy out of a bottle like budvar – it's just a bit more interesting due to the addition of galaxy hops.
"The galaxy hops give it a little bit more of a floral aroma, passionfruit seems to come out pretty strong, and then there's a nice bitter finish which makes you want more."
The Rainbow Beer has been on tap at the bar in Brisbane's West End since 2011, and originally existed without a direct link to Australian Marriage Equality.
But as Goding explains, the beer – which is contract brewed by a local Brisbane brewery – still came about via a conscious decision to try and make the bar an inclusive space.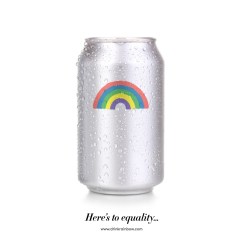 "Now we've got this Rainbow Beer, a rainbow product with a nice following in Brisbane that people know about.
"So the three of us wanted to the beer out there, and we were already sitting on this amazing rainbow brand, and we wanted to use it for good.
"We're seeing what the Rainbow has done for the inclusiveness of the venue and that led us to reach for Australian Marriage Equality as our charity."
The target of $100,000 was settled on by the trio as it will allow them to produce enough volume to keep the beer at an accessible price for customers, while still leaving enough money to donate half of the profits to marriage equality.
And if successful, the team is aiming for Australia-wide distribution of the Rainbow Beer – so don't be surprised if the distinctive cans find their way to a bar or pub near you.
Pozible supporters will have the first chance to get their hands on a slab, six-pack or other merchandise, and bars, pubs and clubs can get involved for a keg or 12.
Head to the Pozible campaign page for more information or to support the Rainbow Beer.