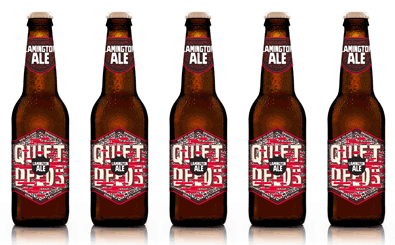 The boys at Quiet Deeds have brought the traditional lamington to life in beer form for the cooler months.
A tribute to the Aussie lamington, Quiet Deeds' limited edition seasonal brew, Lamington Ale, combines the rich flavours of chocolate malts, caramel and coffee, with a lingering toasted coconut aroma.
Quiet Deeds brewer Bobby Henry said the inspiration for the ale stemmed from his time working as a brewer in the United States.
"During the autumn period, everyone would make pumpkin beers inspired by the flavour of pumpkin pies," he said.
"I started wondering what the Australian version of this autumn flavour would be. I thought about Easter and ANZAC Day – the ANZAC biscuit came to mind and then the lamington."
The ale matches well with soups and stews, while the coconut in the Lamington Ale pairs well with heavier Asian dishes such as laksa and Thai curries.
Quiet Deeds' Lamington Ale is the third in a series of four seasonal beers the brewery has planned for release this year.
"With only 5.5% ABV, it's a nice beer to lead into winter," co-founder Patrick Ale said.
The Lamington Ale carries an RRP $27 and can be found through Vintage Cellars.